phile under: TBA dance
Review: robbinschilds C.L.U.E. (color location ultimate exprience)
Today at 1 PM is the last day to see robbinschilds C.L.U.E. (color location ultimate exprience) at The WORKS for PICA's TBA:09 Festival. Take a late lunch to see this duo's performance which I am hoping will use various spaces in and around the Washington High School building, since the first of three performances they did took place in the room in which their piece of the same name created with A.L. Steiner is installed.
Let's start with that installation. A carpeted geodesic dome is cut away to reveal a pile of television sets displaying video of a rainbow color-coded contemporary dance travelogue. The two dancers, Layla Childs and Sonya Robbins, dressed in bright monochrome perform movement sequences in a series of locations shot so beautifully that quarry, freeway, canal, parking lot, desert make equally cinematic backdrops for movement that is mechanical, mundane, joyful, but most often executed with a kind of flat, matter-of-factness (and yes, I know I've used that descriptor twice in two days). In blue, the dancers flop backward onto floating mattresses in a pool then flip over into the water while on another television they crawl out of the surf. In purple they lie prone on a great rock reaching across one another, retreating. In red, they meander slowly through a desert landscape or stand at the edge of a freeway performing an interlocking mechanical arm movement. In yellow they run hand-in-hand down a road. In white, they dance in a parking lot at night. In green, they curl of in the scoop of a tractor or walk across a downed tree in a forest. Sometimes two televisions at opposite ends of the pile show two blue segments simultaneously, so the pool and ocean segments might run concurrently. Sometimes, the monitors show simply a solid bright color, sometimes a windblasted rock or pile of junked cars absent dancers. Sometimes the footage is run backward or sped up. The result is a crazy quilt of American landscape and movement that responds directly to the warm rock or cold sand on which it is performed.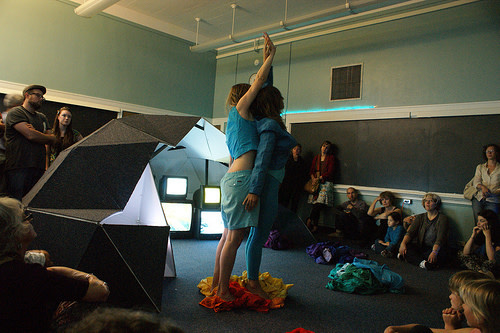 The juxtapositions of images on the different televisions are as interesting as the movement sequences in their environments. And the soundtrack by Kinski that ranges from rockin' to atmospheric colors (!) our experience of each dance fragment because it loops at a different rate than the videos. A bouncy dance (hot pink) on a deserted highway reads as exuberant with a rocking song and hopeful/melancholy with a moodier track.
This installation is one of the best pieces at The WORKS and one of the more interesting examples of dance on film I've seen in that it succeeds at capturing site-responsive dance while creating a viewing experience that exceeds that of viewing document because of its multiple channel presentation.
The performance we saw in the space on Monday was much more contact improv-y and task based than the work shown in the videos. The dancers (aqua) began by slowly laying out all of the costumes in a rumpled rainbow across the floor in front of the installation. Contact improvisation? The dancers worked on the floor each responding the the touch or movement of the other. Task-based? One highlight was one dancer supporting the other as she traveled all the way around the classroom, walking on the chalkboard tray. It was thoughtful, connected dance that set a few rules then responded to its situation, including a room crowded with people who sometimes became part of the dance. It definitely made me want to see more, which is why I'm headed back to The WORKS today at 1 PM.