phile under: performance
ALEMBIC #4: The Alchemy of Performance
performance series at PWNW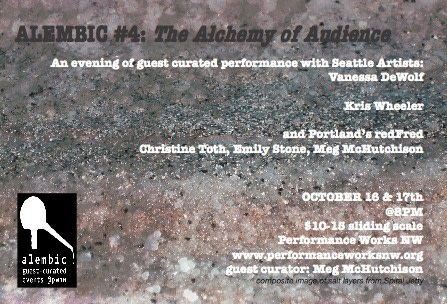 Alembic is a regular new-performance series at Performance Works NorthWest, each evening selected by a different artist. Tonight and tomorrow night we'll have
Meg McHutchison to thank for introducing us to performances by groups from Seattle and Portland. Vanessa DeWolf's Wobbly Things (Seattle), Kris Wheeler's Something (Seattle), and redFred (Portland) which is Meg McHutchison, Christine Toth, and Emily Stone.
"The conceptual thread that ties these artists together
is their investigation of the boundaries of performance space. They are intrepid in their improvisational practice(s) of invitation to and feedback from their audiences. Their curiosity is fueled by imagination, and illuminated in the moment-to-moment transformation of performance."
Alembic runs two nights, Friday and Saturday October 16 and 17 at 8:00 PM at Performance Works Northwest (4625 SE 67th Ave).