phile under: art talk
Ryan Pierce on Art Focus
Eva Lake talks to Pierce on KBOO this morning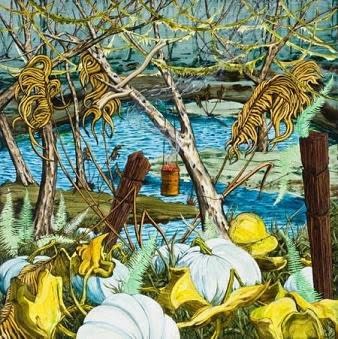 This morning at 11:30 on Art Focus on KBOO, Eva Lake talks with Ryan Pierce, whose show, Written from Exile, is up at Elizabeth Leach. acrylic paintings which explore a post-industrial world.
Regarding Written From Exile, from the gallery website:
In Written from Exile Ryan Pierce presents vivid, large-scale acrylic paintings that examine our world after the end of the industrial era, projected human migration patterns, and the remains of civilization. Pierce poses the questions: Who will be displaced by climate change and where will they go? How will they get there and how will they be accepted? What will happen to the things they've left behind? Pierce has used the narrative structure of Jerzy Kosinski's classic Holocaust novel The Painted Bird – dark, violent, and arguably plagiarized – to form visual corollaries from a post-global warming environment. The paintings in Written from Exile borrow formal techniques from rural, self-taught Eastern European artists, whose approach to landscape painting reflects a personal relationship with the land. Ultimately the viewer is presented with a positive outcome – the renaissance of the natural world after the global human population has been greatly diminished.
Written from Exile includes paintings featured in Pierce's upcoming artist book, To Those Who Will Not Know the Way, which was partially supported by a project grant from the Regional Arts and Culture Council. Please join us at the gallery for a reception and artist talk to celebrate the book release at 11:00 am on Saturday, October 31.