phile under: art
Paige Saez's QR Code book
Paige Saez's QR Code book project isn't new perhaps (it dates to 2008), but I'm pretty wild about its use of whizzy technology in service of narrative abstract cartography.
Her book documents a series of almost secret public installations of QR code stickers (one would have to be familiar with QR codes to know what one was looking at on the wall of the bathroom of Vendetta, for example) and songs accessed by each QR code that for Saez have connection to place.
Documenting the project in book form adds an additional narrative layer missing from the first-hand experience of reading the code to trigger song and makes the whole project available to those of us who don't have readers on our iPhones. Plus the photography is snapshotty beautiful.
This is Saez at her best, approaching the psychogeographic (perhaps better to call it sociogeographic) with her signature mix of poignancy and technological adventurism. She had previously explored similar terrain at on Platial with personal narrative maps of Portland.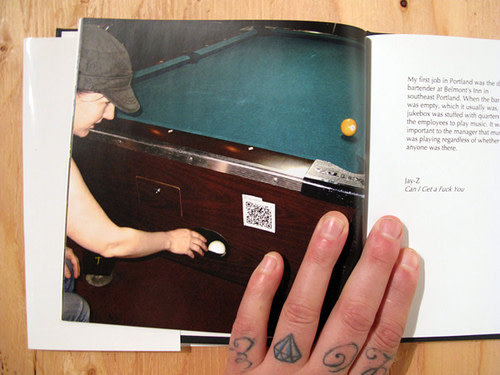 I have to thank Amber Case (@caseorganic) who tweeted the link to Paige's book yesterday.