phile under: art review
Review: Brian Lund, New Work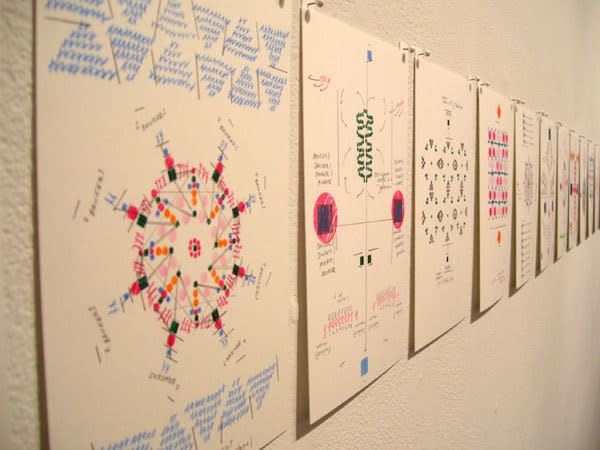 The artist as re-editor of pop culture product is nothing new, but the drawings of New York artist Brian Lund feel completely fresh as Lund eschews the surface of his source material—Hollywood film—to dig into its underlying structure. Lund meticulously creates drawings that function as both graphical analysis and mashup of popular film with sources ranging from "Die Hard" to "All That Jazz."
Brian Lund: New Work in the Project Space at PNCA for PICA's TBA:09 Festival features a series of Lund drawings based on the film "Wall Street," with several other works incorporating dance sequences choreographed by Busby Berkeley for Depression era musicals. In some pieces, the two sources are overlayed.
Lund creates a spare vocabulary of mark and shape that represent character, prop, action from individual shots from the films. Gordon Gecko is a forest green square. A secretary is an orange circle. Lines connect, contain, or indicate action. Lund supplies spare notation "Bud Fox meets Gordon Gecko."
Where Lund moves from a kind of data visualization meets micro-storyboarding exercise to something much more intriguing is when he multiplies the diagrammed moment in clusters—"70 Marv's (on phones)"—often arranged radially or axially. It is as if Lund causes the film to stutter like a faulty CD stuck in a loop and then kaleidoscopes the results. Equally interesting is the collision of like scene Lund creates: one drawing focuses of water-based moments like Gecko on a beach or Bud in a pool. And the overlay of one film on another adds delicious complexity and ambiguity: it can be no coincidence that Lund's mark for banker is similar to that for dancer (Bring on the dancing girls!). The resulting drawings are rhythmic, dynamic, and beautiful.
See photos of Lund's work on OPENWIDEpdx (scroll down).