phile under: art
Au Revoir TBA:09 Visual Art
two more days to see TBA art at Washington High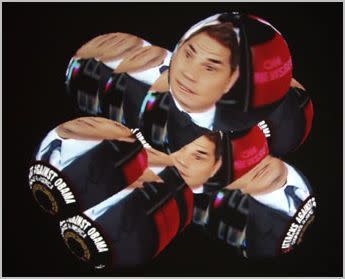 Oh, grey morning, you are a perfect invitation to the halls of the former Washington High School (531 SE 14th) in SE Portland where for just two days more, you can see the visual art exhibition of PICA's TBA:09 Festival. The artists and performers from around the country are long gone. That 10 days of performative frenzy on the cusp between summer and fall is memory. But today and tomorrow from 12-4 PM, you can still see one of the year's more important exhibitions. It is so rare that we have the opportunity to see the work of Portland artists like Stephen Slappe, Ethan Rose, and Jesse Hayward alongside work by artists from New York, France by way of New York (Antoine Catala), Finland (Johanna Ketola), and Beijing (Ma Quisha).
Rose's "Movements," an installation of music boxes, is a sublime delight. Ketola's video installation "The Walls of My Hall," which isolates still figures on a black ground, will bear all the time you can afford it with its nuanced commentary on human isolation. I've written about robbinschilds "C.L.U.E." before, but it's my favorite work of the show, capturing contemporary dance, the color wheel, and the American landscape in a beautiful multi-channel video (and during the festival, a series of performances). Catala's "TV" a mapping of live television feed on a grouping of revolving spheres is Blade Runner grotesque.
Fawn Krieger's "National Park" is oddly underwhelming as an installation centerpiece of the exhibition—curator Kristan Kennedy called it "minimalist" in conversation with the artist. Krieger's online "syllabus" for the piece is a lot more interesting, unless you're a kid…then playing in the cave and under its structure will be a lot of fun. A lot of thinking went into the piece that didn't make it out the other side.