phile under: art talk
Stop and Give Me 30: Ward Shelley
Culturephile interviews NY artist Ward Shelley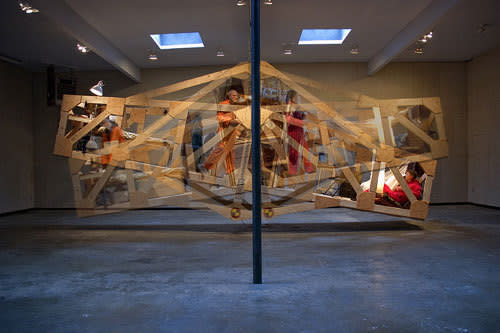 In late September, PNCA brought Brooklyn-based artist Ward Shelley to Portland. I interviewed Shelley the day after he lectured on his work at the Lab at the Museum of Contemporary Craft.
Shelley, who has exhibited internationally, is known for two major bodies of work: architectural scale performance installation and informational drawings. He spoke about both in his slide lecture. Shelley's performance installations have meant building a restricted space in which Shelley (and sometimes team) live for the duration of the exhibition. For some of these performances, the issue is living in contained space, for others, there is both living in containment and a program, a building from here to there over the course of the exhibition.
For "We are Mice" he built out false walls in his gallery, Pierogi Gallery, and lived in the space between the walls and the actual walls of the gallery for 35 days. Video cameras projected a view between the walls into the gallery. For WASP, he and his team built a "wasp's nest" in a multi-story atrium and lived in it for the duration. His tunnel pieces have meant building a "tunnel" or passageway affixed to a roof from one end of an arts space to another. For his early "platform" pieces, he and his team built a platform on which they lived while slowly removing pieces from one end and building them on the other to slowly, incrementally move the platform from one end of a park to the other.
Shelley's paintings of art diagrams in the lineage of Ad Reinhardt, Alfred Barr, and George Maciunas can be seen on the artist's website and include "Who Invented the Avant Garde" and "Downtown Body." He began these paintings with his own autobiography, moved on to recording the careers of artists whose work he admired like Frank Zappa and Andy Warhol, and expanded from there to chart in his organic style, women artists, the Beats, and more.
Shelley's yet to show in Portland, but recently did "Stability" (pictured) at Lawrimore Project in Seattle. Shelley is represented by Pierogi Gallery in Williamsburgh.
InterVIEW:
And some notes from his lecture:
Installations
Shelley created his first architectural scale performance installation at the invitation of Socrates Sculpture park in Long Island City. He had until then been doing smaller scale robotic sculptures for a number of years. "I needed to do something bigger, something different," Shelley said. "They [Socrates] were worried that little robotic pieces would chew a kid's arm off if left unattended, and anyway, there was no power, nowhere to plug in." Shelley said, "I wanted my work to change while you were watching it. I felt that that would push your perceptions in a certain kind of way."
Shelley created a platform on which he and his team lived for the duration of the piece. Every day they removed sections of the platform on one end and built them on the other, slowly moving the piece across the park.
"We were going to be the motors. It was a completely fresh start for me. I was a sailor, I had done crossings, and I had just gone on my first technical climb. I was all charged up on expeditions," Shelley said. "This piece had rules: you get on top, and you don't come down until you got to the other side of the park. Every day we built and rebuilt it. The piece becomes a personal myth."
"We were doing a dumb thing in a difficult way," Shelley said. "When I said that was that just defensiveness to ward off criticism?"
"The way it worked was very transparent. But it was a performance in obscure place. How would people find out about it?" Shelley said. "I thought about Chris Burden getting himself shot. I didn't see it, but I had heard about it. It was like a compressed artwork. You could take it like a pill and it would unfold in your mind. I thought, what can I do for audience that will not see this thing? I decided to make a direct mail package with letters, stickers, postcards falling out, an explanation of how it worked. But wow could I get people to open the envelope? I put on the outside, 'How did they go to the Bathroom?' The show postcard is a picture of the toilet. It worked."
Shelley repeated the piece in Berlin and in Italy.
"You just load with everything you know, every idea you have. I had the time. I had costumes for everybody. It had a strong connection to sports. You have to get to the finish line without breaking the rules. People [artists] try to disown sport. They think that it's vulgar, etc. but there are a lot of similarities."
In all of these platform pieces, Shelley said they spent a lot of time talking to people. "Since it was an extended performance there didn't seem to be a reason not to interact. It created an openness, allowed us to engage. It was practically made for t.v. It was like a hot air balloon, with bright colors and corporate branding. I even made a logo for us."
For his next piece, Shelley decided to, "Do something very different rather than refine the earlier idea and therefore weaken it." Inspired by a visit to the Checkpoint Charlie Museum in Berlin, Shelley decided to build a tunnel.
"We couldn't dig a tunnel so we built one," he said. It was in France in blocks of abandoned factory where they had manufactured cigarettes. "We built a ceiling tunnel that snaked through building with "Termites" or helpers who brought material through the tunnel."
"I decided to stop the TV look and make a movie look: dark, closed-in, the opposite of last piece. It was in France. I was thinking carnal. We had costumes, created fiction to go along with it. In the gallery viewers could see on screens what was going on inside the tunnels. I stayed in for three weeks. The termites stayed for two days. It wasn't their thing. I reached the other end of building: Mission accomplished."
Some years later, Shelley returned from Europe to his studio, "and here was my friend Jesse, bathing in the sink. At the same time I heard about these artists who were losing their studio and before they had to get out, they moved a wall and created a hidden studio in part of the space. We were all like mice trying to fit in, saying 'I don't need much.'" So for "We have Mice" at Pierogi Gallery. Shelley moved the walls and lived inside the walls for 35 days, working on art. Video cameras delivered a feed of what was going on behind the walls to monitors in the gallery.
Timeline Drawings
Shelley copies his complex timeline drawings onto architectural vellum then paints on the reverse. He does them in editions of three, when one sells, he does another, correcting any errors in the first that he's discovered. The first timeline drawing Shelley did was his autobiography. "I used graphical conventions to analyze my life, with a degree of editorializing."
What's interesting in the telling of history is choices about what's told, what's not told. There is never a neutral point of view. I responded to what Lucy Lippard called the dematerialization of art in the 60s and called what I was doing, "rematerializing art." I took the careers of interesting people, and told their stories via these timeline drawings. The first was Carolee Schneeman, basically a career chart, her influences, collaborators. It allowed me to learn about art history, things I cared about. Next I did women painters in America, and there were a lot before 2nd wave feminism, women with no support. I did Andy Warhol, did the history of rock n' roll based on the Alfred Barr drawings. I did a history of art movements. Then I did Downtown Body, tracing Manhattan bohemia from Whitman on.
For the maps, there is no analogue for reality besides reality. There is always going to be a point of view. You are editing, creating reality.