phile under: art
Four Great Things: China Design Now
fantastic design exhibition opens tomorrow
Four Great Things. One one of the wall banners hanging in the shiny new China Design Now exhibition at the Portland Art Museum notes that in the 60's and 70's, China promoted bicycle, sewing machine, watch, and radio as Four Great Things one should aspire to own. In the 80s, the Four included television, refrigerator, and washing machine, while today they are a house, car, computer, and phone. These say so much as measure of swift change on many fronts: in development, in government position on consumer goods, in the life of Chinese people, and on and on.
The entire China Design Now exhibition focuses on object as measure of change, and what a picture it paints. It's worth noting that the word designer was not used in China until about 20 years ago…they were artist-workers. And there was, for example, no such thing as packaging design, according to the fine catalog that accompanies the exhibition.
The exhibition is divided into sections reflecting three cities. Shenzhen is "Frontier City" where China, among other things, created a special economic zone to promote graphic design. Shanghai is "Dream City," style central. And Beijing is "Future City." Though there are overlaps, in the exhibition the section for Shenzhen focuses on graphic design, Shanghai, fashion and furniture design and Beijing, architecture.
So here are my Four Great Things at China Design Now that you must not miss: "Father's House Xi'An" a remarkable stone-clad house by Ma Qingyun with beautiful woven shutters and a pool cutting it in two; Zhang Da's sculptural dresses in olive wool; Chen Shao Xiong's "Homescape" (see below); and the symbolic strength of Ai Weiwei's 90's nameless, self-published art magazine, the only place artists could publish at the time, here represented by three minimalist volumes behind plexi.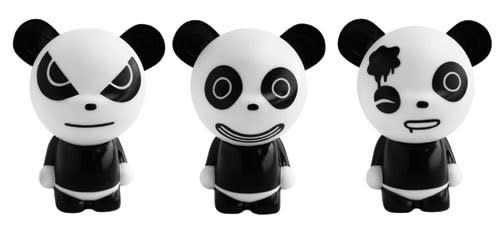 Viewers will be surprised at how much of the exhibition looks so familiar, from Beijing's architectural jewels to Nike kicks. It's ironic that it is via an exhibition of Chinese design that get skatedeck art, vinyl toys, t-shirts and sneakers enter the great halls of the museum. The visual language, on posters, zine covers, Chen Man's photos for the cover of Shanghai fashion magazine Vision, will feel familiar.
The societal context of the designed objects on display is presented through portraits of families in their homes, video of China's leading television personality, a wonderful installation by Chen Shao Xiong "Homescape" portraying families and their objects cut out of room context and reinstalled in a white multilevel dollhouse display, and wall texts noting facts and figures, history lessons, and insightful reflections on life and design in China now.
On a wall in the Shenzhen section of the exhibit: When asked, "How can our design be more international?" Alex Chan replied, "Go ask your mother how she cooks a good meal. What I mean is don't forget where you are from."
The exhibition opens multiple windows not only into the designed in China, but also both explicitly and implicitly, into daily life, evolving at the speed of light even as nil novi sub sole.
The Members' preview for China Design Now is Friday, October 9, 2009. The exhibition opens to the public on Saturday, October 10.
A community website for the exhibition lists many events produced by the wonderfully broad web of partners the Museum has lined up for this show as well as a group blog with editors like Brian Libby, John Jay, and Carl Alviani which is already roiling with activity.