phile under: art
The Kids are Alright: Content
Fashion, art, music. One Night. Ace Hotel.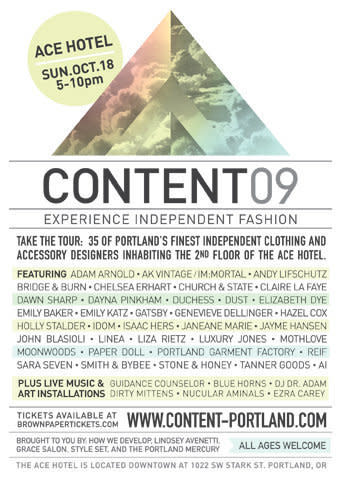 As part of tonight's Content at the Ace Hotel (1022 SW Stark St), a fashion event modeled after hotel art fairs in which designers take over a room for the night, five Portland-based artists are doing art installations. Modou Dieng, Justin Gorman, Minh Tran, Seth Neefus, Sam Korman, and Minh Tran are doing installations in the stairwell, on the walls, suspended from the ceiling and outside the hotel.
The second floor of the Ace will be given over to 35 Portland fashion designers in 28 rooms, the more adventurous of whom I expect will transform the rooms with interesting installations of their own.
Bands and beautiful people round out Content which begins at 5 PM. Admission is $10, all ages.
CONTENT 09 PROMO from Minh Tran on Vimeo.