phile under: art
Jelly Generation
The John Jay curated show of 30 younger Chinese artists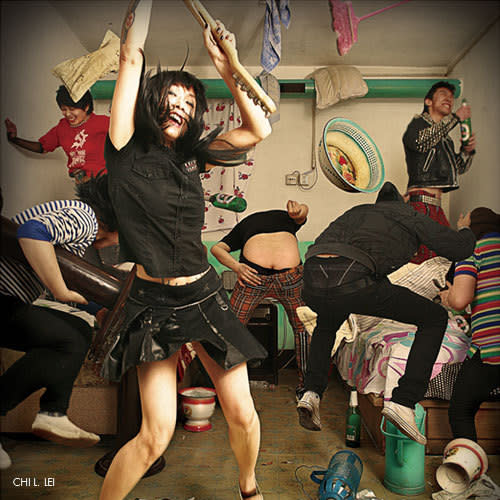 The art component of the current China cultural blow-out in Portland happens not at the Portland Art Museum (currently showing China Design Now with graphic, product, fashion design as well as architecture) but at the Goldsmith building, formerly the Portland Art Center at NW 5th and Couch. There at the freshly dubbed "Goldsmith Gallery," Wieden + Kennedy's John Jay has curated Jelly Generation a show with work by 30 young Chinese artists.
The location of the show itself is interesting, but not for the reasons you're thinking having to do with two golden lions. You are likely aware that outside of exhibitions by PAM and PICA (and galleries like Rocks Box and Fourteen30) we are afforded few opportunities to see work by contemporary artists from beyond the NW. Opportunities to see work by international artists are even more rare (I think back to Jeff Jahn's Fresh Trouble which included work by Cao Fei and of course TBA:09's work by Ma Quisha). And yet, one gallery has regularly shown international work. Kitty corner across the 5th and Couch intersection, Katsu Tanaka's Compound has regularly exhibited work by younger Japanese artists. The recent Survival Drive: Rei & Hooky being a highlight. So it is with a "Welcome to the neighborhood!" then, that I anticipate Jelly Gen's exhibition of younger Chinese artists.
According to the note on the show, "The battlelines have been drawn, the post 80's generation vs. the post 90's." I'm wondering, and I'll find out today when I visit, whether that shouldn't have read, "pre-80's vs. post-90's" to indicate we're talking about one post-90's "Jelly" generation that has flourished, benefiting from a relaxation of cultural controls. As written, it kind of sounds like two distinct groups, more interesting perhaps, but unlikely. I'll report back from the front.
Jelly Generation is on view Tuesday through Saturday from 12-7 PM.