phile under: artist talk
Martin Kersels Lecture
PNCA's MFA in Visual Studies lecture program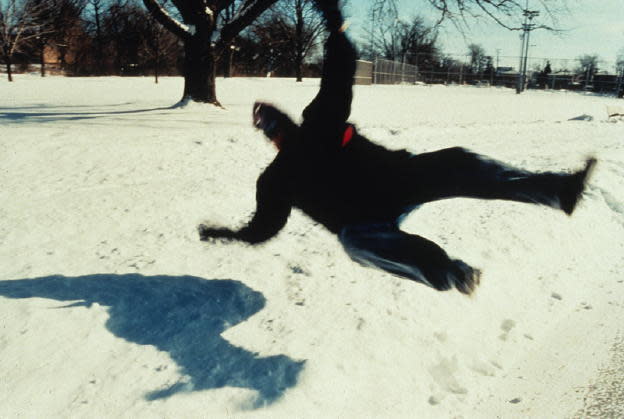 The photo of the 300 lb man captured in mid-air, in the seconds between launch and impact when like a little kid he can say, "I'm flying!" captures the main thrust of Los Angeles-based artist Martin Kersels' work, the body as subject— specifically Kersels' body—treated with equal parts levity and gravity.
Tonight Thursday, October 8, at 6:30 PM, Kersels' will give a talk in the Lab at the Museum of Contemporary Craft, (724 N.W. Davis) as part of PNCA's Graduate Visiting Artists Lecture Series.
With a visual art practice born out of performance—he was a member of SHRIMPS, a group of big men performing small movemements—Kersels has created video, performative sculpture, and installation work that among other things, continues to address the physical presence/physicality of the artist (as in photo series "Falling"), his sculptures standing in for or implying the artist's presence. His work has been called both intense and slapstick. In an early photo An early piece, "Objects of the Dealer" (with Soundtracks) in 1995 at Dan Bernier Gallery in LA attached sound to objects on his then dealer's desk for the run of the show.
Kersel's "Tumble Room" (below) at Deitch Projects, a pink-clad girl's room built to rotate within a 15 foot structure was also the set for his "Pink Constellation" video which alternated shots of a woman nimbly dancing in the revolving space and the artist, who in the end had to scramble to avoid the furniture which had been unbolted from the floor and walls. The installation, "Tumble Room," recreates that moment, sans artist as the furniture, unbolted, is slowly smashed to bits, tossed from ceiling to floor to wall.
In 2007 the Tang Museum did a a retrospective of Kersel's work that traveled last year to the Santa Monica Museum of Art. Kersel's work has been featured in exhibitions at the Institute of Contemporary Art in Philadelphia, the J. Paul Getty Museum and ACME in Los Angeles, Deitch Projects in New York, and the Galerie Georges-Phillipe and Nathalie Vallois in Paris. His pieces are in the public collections of the Los Angeles County Museum of Art ?and the J. Paul Getty Museum in Los Angeles, La Reina Sofia in Madrid, and the Musée National d'Art Moderne Centre Pompidou in Paris.