phile under: art export
Export: Joe Thurston and Sean Healy
Two more Portland artists head to Berlin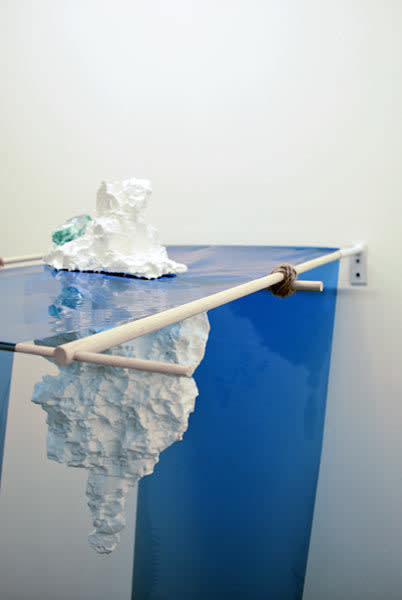 The iceberg has been recurring metaphor for me over last week or two. It's also recurring motif and centerpiece of The Future Royal Family of Antarctica , a new collaborative project by Portland-based artists Sean Healy and Joe Thurston that that is headed off to Berlin for exhibition at East/West Project October 23 through November 21.
The carved iceberg, studded with one faceted gem, floats on a blue sheet plastic sea that flows down and onto the floor of the gallery. Iceberg reliefs executed in Thurston's signature style are propped up on the floor while Healy-esque laser-cut penguins keeping glass eggs warm on their feet. The two can protest that Future Royal is a collaboration existing outside the studio practice of either artist, but each shows his hand and the mashup coheres. If the title of the show is ultimately hopeful in the context of front page global warming news, the series of beautifully subtle, white-on-white prints of icy cliff faces (the scale of the cliff dwarfed by the field of the paper) quietly signal the continent's emergency, today's cliff is tomorrow's iceberg is tomorrow's….
See more great photos of the preview on OPENWIDEpdx.