phile under: art
Review: Arnold Kemp's This Quiet Dust, Ladies and Gentlemen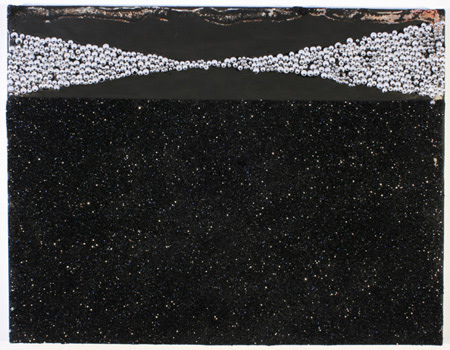 Perhaps it is too late to tell you this as the show comes down tomorrow, but This Quiet Dust, Ladies and Gentlemen at PDX Contemporary is not the last we'll see of Arnold Kemp, who's recently become the head of the MFA program at PNCA.
When one invokes Barnett Newman by employing his signature "zip," that vertical stripe whose role as compositional element Newman made his project throughout his mature period, one is making a statement. Whether it's about that heroic, almost monastic project, the boiling down of the picture to essentials, the spiritual in art, or perhaps just drawing a line connecting self to the projects of great painters, I'm not sure. The zips appear, but only just, in Kemp's "Vampire" series. The paintings are matte black but not flat…there is loose, watery, vertical brushstroked evidence of the artist's hand on the surface (and of course, the barely perceptible zip) while colorful underpainting peeks out on the canvas' edges. If the zip invokes Newman, a black painting is a kind of art history lesson in a box that extends from Kasimir Malevich's "Black Square" to Robert Rauschenberg's black paintings, Ad Reinhardt's not-actually-black paintings, and on and on.
It's this tangle of art history meeting Emily Dickinson (in the title of the show) and an exploration of black identity (according to an interview I heard Kemp do with Modou Dieng) in a non-pedantic way that makes this interesting stuff.
This Quiet also includes a series, "(THEM)," of lovely photos of a tangle of bare branches black against a white sky. The photos are printed on the top half of a vertical sheet of paper. The bottom half is empty. And there is a series of paintings that nod to landscape constructed of masses of black glitter in the foreground, a cloud or line of googly doll eyes on black matte fields above the glittery horizon line and a thin strip of colored texture at the top edge of the canvas. These masses of eyes imply crowds both watching (you) and being watched as part of the picture. The titles of these pieces all play with "cant"…"Cant," "Incant," "Recant." If incant implies making magic with words, and recant means I take them all back, cant itself is usually, metaphorically a certain slant on those words, but also hypocrisy and, "the expression or repetition of conventional, trite, or unconsidered opinions or sentiments." The power of the word spoken is silently embedded in the series, then, with its crowds of wide-eyed witnesses listening with their eyes. That's you, ladies and gentlemen.
This quiet dust was gentlemen and ladies
This quiet dust was gentlemen and ladies
And lads and girls;
Was laughter and ability and sighing,
And frocks and curls;
This passive place a summer's nimble mansion,
Where bloom and bees
Fulfilled their oriental circuit,
Then ceased like these.
Emily Dickinson