phile under: art + design
Review: Jelly Gen
Show of contemporary art by young Chinese artists
There are two pretty profound takeaways to be had from the Portland Art Museum's China Design Now exhibition. First, design talent flows readily into and out of China's borders. A Chinese fashion designer practices in Paris. European architects design buildings in Beijing. Second, much of the work on display could have come from any one of many of the world's design centers. The international exchange of ideas, tropes, trends, it appears, is at full throttle.
So it is with the Jelly Gen exhibition, curated by John and Janet Jay of Studio J currently at the Goldsmith Gallery (NW Fifth and Couch). The exhibition features work by Chinese-based or Chinese-born artists, designers, photographers, video artists, and musicians who were born in the 80's and 90's. These artists go to university in London, work in Paris, sell on Etsy. On the main floor, smashing oversized digital prints of conceptual fashion, of photography, sculpture, product design, and illustration-based art benefit from a soundtrack of bands PK-14 and Queen Sea Big Shark whose Love Noise 2008 tour is chronicled in a series of short films sponsored by Converse shown in the back of the space. If the songs sound startlingly familiar (close your eyes and it's proto-UK-punk), that's because youth culture knows even fewer boundaries. Here Queen Sea plays in the Bay Area earlier this year:
The standout work in the show is by photographer Sun Ji whose photo collages from his "Memory City II" series are claustrophobic layerings of buildings in various states of decay that trick the eye/brain as it struggles to make sense of perspective and scale in a scene that is just a few degrees off from reality. Too, Chi L Lei's two photos, disturbing as they are, particularly in proximity—a violent hostage scene in one, a dear old couple in a small, green-walled room (in fact the same room staged differently) in another—are compelling for their hyperrealism and in tandem, their vivid palette.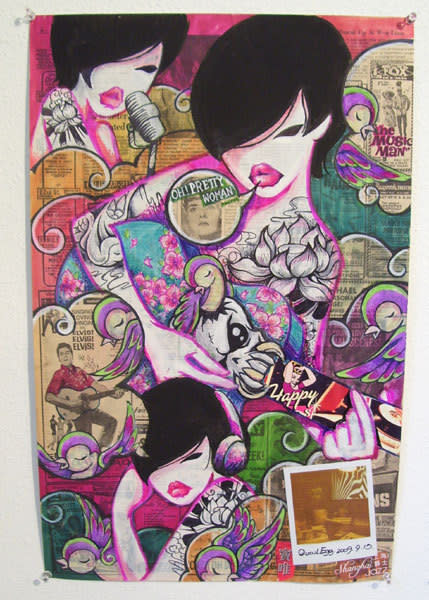 Upstairs, Jay cleverly had the artists produce original works on (or with) pages of a 1962 Oregon Journal newspaper. Ding Ding's abject doll pushed the assignment farthest in its half ragdoll, half pinata form. Li Xiao Don's nudes with massive amounts of curly hair share pages with lingerie ads. Quan Chun aka Quail Egg has her bird motif and some sensuous ladies with heavy bangs to play peek-a-boo with the entertainment page on which they're painted (Elvis!). Some of the pieces felt like doodling drive-by's, but others, like works by Vader, Driv, and Leal, were alternatively ironic, poignant, and smart.
As high-design object and cross-cultural signpost, Zack Zhu's shiny ceramic organic form somewhere between an anemone and a dahlia made in China and "reassembled in London" is fascinating. And Cai Kai's capturing of the reconceptualization discovered online of the relationships between LiLei and Han MeiMei (characters from an 80's English textbook) TK. And artist-turned-fashion designer Du Yang's sculptural designs deliciously delve into both surrealism and craft, but get into troubled territory with a white model in an oversized sweater featuring a black face on the torso and…watermelon slices on the sleeves. How to read an American racist meme filtered through the mind of a Paris-based Chinese designer?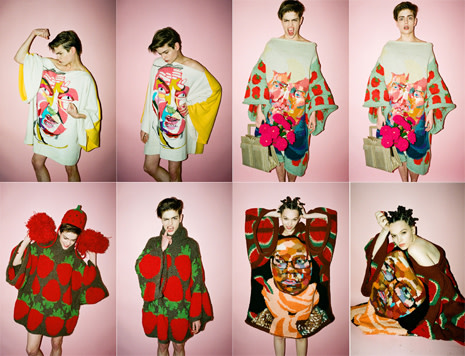 The two animated video works I'm afraid I can't credit (I don't have information) but they interestingly shared both a pursuit in dystopic future theme, one with aliens and one with pursuers become monsters, and faces that rotate vertically. See them, they're upstairs.
Some of the work feels so familiar. Work by Qian Qian in its superflat and gradient glory will remind you of Murakami. Nod's bright graphic abstract patterns feel strikingly Scandinavian. The heavy eyes of a figure in a Mr. Paper (Liu Weihua) painting nod to Barry McGee's enigmatic figures. And some of the work has traditional roots (Bei Bang) or toys with tradition as in the graffiti'd paper lanterns by the Reload Crew (also at the Ace Hotel).
There is something more going on here than shining a spotlight on a group of emerging artists and designers with roots in China. By juxtaposing art, commercial art, product, sponsored art (the Converse-sponsored tour), photos of Wieden + Kennedy's extraordinary Shanghai office, and a photo essay on lunch delivery at that office, the show's thesis seems to be that the membrane between commercial art and art or art and design is so permeable for Chinese artists of a certain age (or at least this group here) as to be unimportant. Sound familiar?