phile under: art
Review: Minor Threats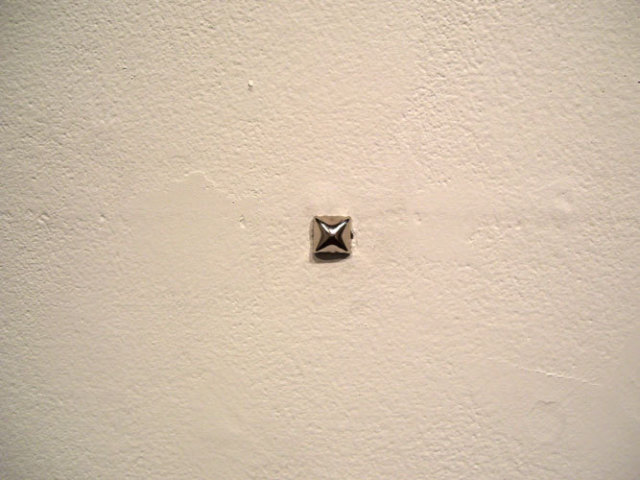 If what passes for punk in 2009 is dropping in under the Burnside Bridge or hopping a train to NorCal, its Kraft® processed cheese food version is in the Manuel Izquierdo Gallery at PNCA at the moment, and I feel fine. Matt Green's simple gesture of embedding a single chrome pyramid stud in the wall at eye level for Minor Threats made my night on First Thursday, as a tiny, minimalist sculpture that also happened to be a postcard from the past (the studs of course littered many a shoulder on a black leather jacket 2-3 decades ago) and a reminder that eventually every trapping of rebellion will be packaged and sold in a denatured version in the mall. Surf culture, skate culture, and punk were all converted into commodities years ago, and its only the more insulting that the mass market reprocessors of cultural signifiers mix their chocolate with their peanut butter and put the trappings of punk on the shelves next to the trappings of goths and the kids don't give a shit. Artist Philip Iosca remarked that he'd have liked it more if the stud had been recast into a different metal. Yes, that would further decontextualize (and fetishize) it, but I thought about that and concluded that the stud symbolizes the fact that not only every signifier of punk, but punk itself have been recast often enough that the stud itself functions as its recast model might as both a more pointed* and a watered-down comment on itself. This is all acknowledged, of course, in the title of the exhibition curated by Derek Franklin, where Minor Threat, iconic hardcore band that spearheaded straightedge is drastically diluted with the simple gesture of an "s."
So what are a bunch of young artists doing making art that refers to punk tropes as with Green's Pepsi bottle with the Suicidal Tendencies sticker on it? For Green at least, it makes sense that his explorations of recent American masculine cultural expressions (see his MFA thesis show performance—rocker or roadie—on top of a giant black "stage") would lead to punk. It's a man's world. One might forget, thanks to riot grrls that Penelope Houston of the Avengers was a rare bird. The Dead Milkmen could sing, "You and me punk rock girl," in the 80's but the girl likely wasn't holding a mic. Israel Lund, having titled his Tumblr "Youth Against," might be expected to address punk's archetypal youthy againstness, and he has made previous work with punk-on-paper, the zine.
Brad Troemel's short video "Sprinting from Back to Bed to the AT&T Store" documents Troemel doing just that, dashing across a mini-mall parking lot. This is best in show, recalling task-based pieces like Barry Le Va's "Impact Run." If suburban living was fertile ground for punk, Troemel's sprinter looped into speeding nowhere again and again is the kid who never got out.
The edition produced for the show acknowledges punk's end of the line in brilliant and subtle ways. On the postcard with the Ramones logo on it, all of the names but Tommy's have been erased. And Israel Lund's zine with its solid black copied pages couldn't be any more punk, any more anti-, the negation negating the negation, a symbol of an end game for a game people won't quit playing.
Well played, Derek Franklin, and thanks for bringing Troemel's work to Portland.
*pun unintended but acknowledged
UPDATE: SJPC points out the obvious below in comments (thank god someone's reading and keeping me honest). I blinked and didn't see it. Coke is now Pepsi. This kind of thing matters to the Suicidal Tendencies and also to Laverne.