phile under: art
Black and Blue:What Not To Do
opens tonight at Milepost 5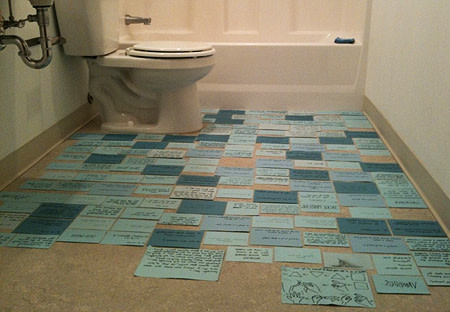 Oh, provocateur, do not look so surprised when your art provokes.
Victor Maldonado tries again. His Funny, Dirty, Wrong hallway exhibition at Milepost 5 (900 NE 81st Ave) of dirty or politically incorrect jokes on blue note cards penned by students in his Art, Ethics and Transgression class at PNCA was closed down as being inappropriate for the venue, or more properly it was moved into a room.
"Get a room!"
Now it is a group show called Black and Blue:What Not To Do. Walter Lee, Alicia Gordon, Sarah Johnson, Allison Halter join Mack McFarland and the artists of Art, Ethics and Transgression for a visual art exhibition about "what wounds us." Opens tonight, 6-9 PM, at Milepost 5 in room 208 at the Lofts.
"By appointment only with limited viewing hours for the extent of its run, difficult to access works of photography, drawing and installation riff on holy terror, economic meltdowns, beat down and broken forms and the unspecific objects that fuel our divisive ism and phobia cultures. It's difficult to leave your door and be confronted by things that are obscene and appalling. This curatorial intervention also continues to experiment with Live/work residencies as ritual spaces that promise to create a critical nexus of all types from our creative economy for all types in our creative class. Sometimes the violence in the hall is so loud and physical that you can hear it in every room-even behind closed doors. Managing and controlling the random forces in life can be difficult for some. For some the difficult forces help manage random life." —Victor Maldonado