phile under: craft
Not Free At Last: Museum of Contemporary Craft
Portland's only free museum isn't anymore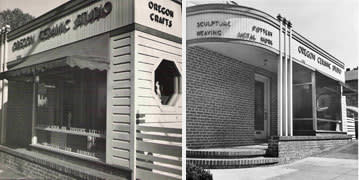 One of the hallmarks of the Museum of Contemporary Craft, particularly under the leadership of David Cohen but dating back to its origins as the Oregon Ceramic Studio founded in 1937, was that it was an institution of the people, by the people, for the people. Its army of volunteers, its sales gallery supporting Oregon craft artists, and its policy of free admission were testament to this important pillar of its mission.
Yesterday I learned, via a twitter exchange with @travelportland (Thanks Bryan!) that free days at the Museum of Contemporary Craft are over as of November 19, 2009.
Adult admission will be $3, while seniors and students over 13 pay $2. Kids and PNCA students still get in free.
Understandably, the Museum and its partner/parent PNCA search for additional earned income sources in tough times. But this is a step in the wrong direction. While museum curators, administrators, marketing folks, and education pros are talking about the need to expand audience, to encourage deeper engagement, this cuts those efforts off at the knees. We want to encourage multiple, frequent visits by a wider spectrum of visitors. We want that frequent visitor to be able to have a casual relationship with the work because that familiarity leads not only to a deeper relationship with art (via time to question, study, reflect), it allows the visitor to develop a relationship with the museum itself, to feel a part of it and thereby become its supporter, its champion, a volunteer or docent perhaps, and who knows, perhaps one day its super patron.
In September London's Conservative mayor Boris Johnson caused a stir in calling for Britain's free museums to charge admission, "saying that the lack of any fee devalues the experience. 'Cynical young people think they're seeing something that isn't prized,' he said."
That's nonsense. I often wonder if people who talk about what young people think ever talk to actual young people. And my valuation of art doesn't change whether I pay to see it or view it as a guest. Does yours? But let's be opposite for a minute and take Johnson's tack, are we then saying that the value of a visit to MoCC exhibitions is a mere $3? That isn't right either.
Rebecca Burrell, Director of PR for Museum of Contemporary Craft says, "The admissions fee structure is quite similar to many of our peers, including the Hallie Ford Museum, and furthers our mission of accessibility, while still providing funds that go a long way at a small museum like ours."
If we're trying to capture tourist dollars, fine, let's sell a damn t-shirt or tote bag. But if we are trying to bring all of Portland through the doors of our cultural institutions (as any of them how important "outreach" and "diversifying audiences" is) to make their treasures available to all while at the same time demonstrating the value of these institutions to those who might one day vote on a regional arts funding measure, the only way to "further [the] mission of accessibility" is to continue the Museum's 73 year history of free admission.
Now more than ever, we need wonder and possibility and reminders of the transcendent power of art and craft. Now is not the time to put a petty barrier between the work in the museum and the man on the street.
Lucky for you the Museum of Contemporary Craft is still free on First Thursdays because the upcoming Andy Paiko/Ethan Rose collaboration, Transference, opening coincidentally on November 19, is going to be both important and magical. But as anyone who has gratefully taken advantage of free days at the Portland Art Museum knows, those days are bustling, precluding quiet moments with the work.
On other days of course, you can always join me: I'll be looking in through the windows.