phile under: art
First Thursday November
What am I going to be looking out for this First Thursday?
"This Quiet Dust, Ladies and Gentlemen"
Arnold Kemp
PDX Contemporary (925 NW Flanders)
Kemp is the new head of PNCA's MFA program. In this interview with Modou Dieng (PNCA/Worksound), Kemp talks about his plans for the MFA program but also about this show. Kemp said that in addition to introducing him to his new community, the show explores the relationship between "me as a black person making work that's primarily chromatically black" with nature and a certain mysticism…he mentioned the "black arts" or magic.
The title of the exhibition (an adaptation from Emily Dickinson) embodies Kemp's commitment to present at once poetic and at times darkly humorous work that references quietude, passings away and new beginnings.
Delusions of Grandeur
A Subtle Commentary on Economics – A Dance in Three Parts
Alex Rauch
Tractor (328 NW Broadway)
Rauch gets pre-viewing points for what is almost a double colon title. I know you know what I'm talking about. Translating his fascinating/funny text below, he's creating a myth/fairy tale of himself at 25, an emerging artist. He gets extra triple word Scrabble points for "prosopagnosia," face blindness, or the inability to recognize a face according to that bastion of knowledge for the lazy, Wikipedia.
I have created an allegorical abstract about a quarter-life sea change (both noumenonological and phenomenological) experience that explores subjectivity as an emerging artist grasps at objectivity within his finite reality. This is a story told via mythological iconography, monetary implications, obsolete technology, black plastic and atmospheric and physical nuances. I describe this creation as, "A morose visual-panegyric for the artist's ego, and I am the edifice with prosopagnosia."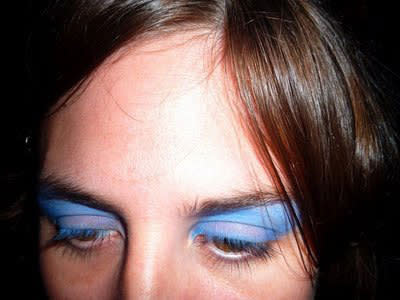 "AND NOW WE DO WHAT WE DO"
May Juliette Barruel
IGLOO (NW 6th Ave and Everett #102)
Curator and artist, May Juliette Barruel finally has a solo show (she's been curating Stumptown downtown and her own Nationale on E Burnside) with photo/text/textile-based work, personal, intimate, created to a soundtrack by Bruce Springsteen, Neil Young, and Bill Callahan. Little sneak preview.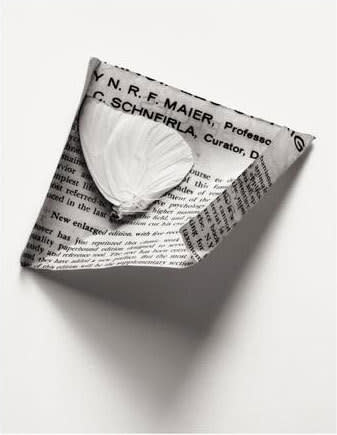 India Tigers
Dianne Kornberg
Elizabeth Leach Gallery (417 NW 9th)
Dianne Kornberg's India Tigers is a recent digital printing of a collection of austere photographs of moths and butterflies from India, preserved in folded, triangular paper wrappings.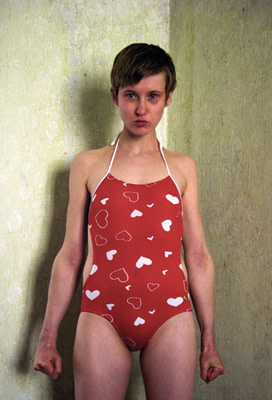 Queer Gaze
Fontanelle Gallery (205 SW Pine)
Queer Gaze is a group photography exhibition featuring images of queer people by queer photographers. This show offers a new examination and response to theories of "male gaze", as originally described by Laura Mulvey as the cinematic depiction of voyeurism and objectification of a female by a heterosexual male viewer. Queer Gaze explores the gaze from woman to woman or queer to queer, as well as the way that many photographers use their own visage or that of their friends to subvert traditional expectations of portraiture.