phile under: art
First Friday November
Eastside!
Here's how First Friday is shaping up with three shows bringing work by international artists to town. Good to shake things up a bit with perspectives from beyond the bridges. Also, it seems to be photography month on the Eastside.
Reflecting China: Gendered Visions from the Diaspora
Nemo Design (1875 SE Belmont)
Opening reception Friday, November 6 from 6 to 10 PM
Nemo opens Reflecting China: Gendered Visions from the Diaspora with work of acclaimed photographers Shen Wei and Jane Tam. The show combines work from Wei's "Chinese Sentiment" series with Tam's "Foreigner's in Paradise" series.
The show "explores issues of Chinese identity, gender, diaspora, cultural memory, imagined communities, longing and belonging. Both artists have been internationally recognized for their work."
Kunsthalle: Deutschland nach Portland
galleryHOMELAND (corner of SE 11th and Division)
Opening Reception First Friday, November 6 from 6-9 PM
Kunsthalle: Deutschland nach Portland is a group show of Berlin artists galleryHOMELAND has been introduced to through its EAST/WEST Project Berlin. Director, Paul Middendorf calls it a core sample or "bodenprobe" of the state of the arts in Berlin, Germany. With work by Berlin artists: Wolfgang Fütterer, Sanna-Lisa Gesang-Gottowt, Terrell James, Bo Joseph, Marte Kiessling, Sandra Preston, Per Schumann, Ole Ukena and Malte Zacharias.
The exhibition features the work of nine contemporary artists, either currently living in Berlin or having done so are now living in Portland, that have been impacted by the vibrant arts community in Berlin. Filmmakers, photographers, painters, and installation artists, many with a hand in multiple mediums, this selection of artists represents the diversity of art and art making practices emanating from a city positively buzzing with a critical mass of creativity, opportunity and cultural exchange.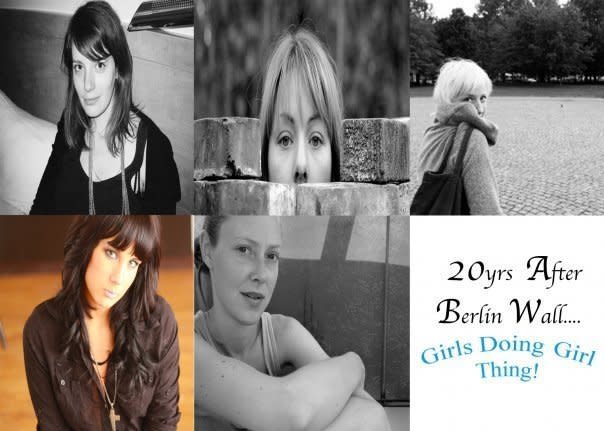 20yrs After Berlin Wall—Girls Doing Girl Things!
Worksound (820 SE Alder)
Opening Reception First Friday, November 6, 7 PM to late.
International group show of photography, sculpture, and installation by artists Krystyn Strother, Alyssa Noches, Emily Lazar, Chloé Richard, and Sanna-Lisa-Gesang-Gottowt plus a performance by Tu Fawning at 9:30 PM.
Alex Steckly
Fourteen30 Contemporary (1430 SE 3rd)
Opening reception November 6, 6 to 9 PM
Fourteen30 Contemporary opens a solo exhibition of new work by Alex Steckly. Steckly focuses on two related bodies of work – a series of chromatically minimal paintings on panel and three large-scale wall sculptures in white.
Oaks Park Pentimento
Jim Lommasson
New American Art Union (922 SE Ankeny)
Opening reception November 6 from 6 to 8 PM
Over two days in 1982, Jim Lommasson photographed the strange and beautiful paintings that decorated the center column of the historic carousel at Oaks Amusement Park in Portland, Oregon. The original carousel images painted by German and Italian immigrants around 1912 were an exotic assortment of Edwardian pastoral scenes featuring western explorers, Native Americans, an Arab riding a camel, and idealized women. When these paintings began to show signs of wear in the 1940s, two itinerant artist brothers from Vashon Island, Washington were hired to paint over the eighteen panels with depictions of such local landmarks as the Columbia River Highway, Mount Hood, Multnomah Falls, and scenes from the Oregon coast. Eventually, the surfaces of these new paintings also began to flake and fade, revealing parts of the original images in unusual and unexpected ways.