phile under: dance
Half/Dozen +Projects Launches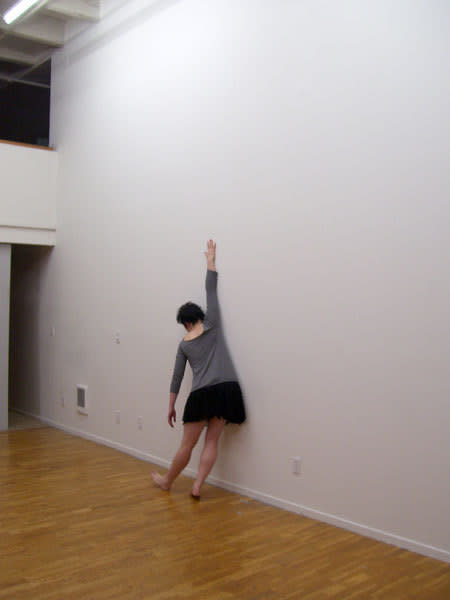 There's a new game in town and I like it. The not-very-old Half/Dozen Gallery in the Everett Lofts is doing monthly, one-night performance, dance, installation pieces in addition to their visual arts programming. It seems like it's been a while since time-based art has had much of a presence at Everett. I'm recalling an Uli Beutter video installation, a Mary Oslund Dance at Gavin Shettler Gallery, and a movement piece Kathleen Keogh did in front of Ogle.
The new series at Half/Dozen, +Projects, launched last night with Pace:Repeat choreographed by Bonnie Green. Green and two others dancers executed pedestrianized versions of movements borrowed from exercise class and dance video interspersed briefly with familiar modern dance movements. At its best, Green's choreography used the three dancers in Newton's Cradle-like sequences like physical games of telephone (and I did love the first moments of Green's solo, counting herself into the piece with splayed fingers on the wall). But I challenge that a flat, emotionless execution precludes moving with commitment. Maybe I have Miguel Gutierrez and the Powerful People on the brain, but I want to see one moving like one means it (i.e. with intent), even if one means to move in a blasé, passive, or automatic fashion.
In a fairly sensational surprise move, once the dancers retreated they were replaced by a man in cycling cleats who rolled out a beautiful, chrome-wheeled LeMond trainer and began to ride, alternating spins and climbs. Would it have been better had he not stopped riding at intervals, dismounted, and moved the trainer to points in a wide circle around the room? Yes. Would it have been better were we able to witness this solitary and punishing act in silence? Yes. But it was a brilliant stroke to interrupt the three repetitions of the dance with this durational moment.
I am interested in Green's movement ideas, especially that of imperfect repetition and think it would be interesting for her to work with a composer/sound artist.
Looking forward to more +Projects, next up is Tim Mahan on November 30 followed by Lucy Yim on January 31. Green (and Yim) will be dancing with Linda Austin in the upcoming Bandage A Knife.