phile under: art + institutions + SM
Portland Art Museum iPhone App Released Today
free app by Spotlight Mobile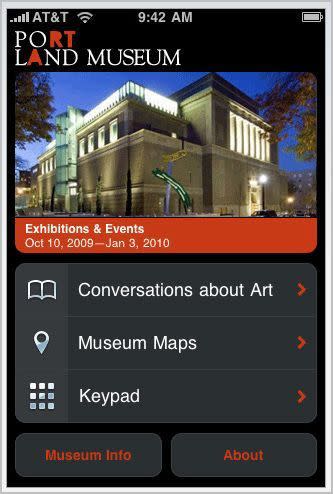 The Portland Art Museum enters the 21st Century today with the launch of its free iPhone app by Portland's Spotlight Mobile based on its Tours product. At the recent 10,000 Invitations roundtable, we talked about the ways that Portland arts institutions are using new and social media. PAM's Christina Olsen mentioned the app was in development, but I didn't realize it was close to release!
Clean and lovely, the app integrates the 11 Conversations About Art videos that the Museum produced with the Smarthistory.org team. These are arts pros talking about a work of art in a casual, unscripted way. The videos were a pilot, let's hope the Museum can get funding to do more.
I've been monkeying around with the app, and though it's clearly a first pass, there is a lot of potential here.
The basics: there's general info about both the Museum and the SmartHistory project. The maps alone of the convoluted geometries of our dear Museum will have value in getting first time visitors out of the glassy-eyed blur they sometimes find themselves in, a half-dozen stairways and a tunnel later. And the maps mark the locations of the pieces the Conversations About Art videos address. Clicking on one brings up a photo of the object and one can then link to the video.
Imagine Smarthistory vids on 10 times as many objects or overviews of collections like the Native American collection. The best thing about an app like this is that one can skip around the museum. I can't bear to be herded through in a linear fashion as with an audio guide. AND I want to either look in silence or talk to my companion about what I see. Information on demand? app technology is made for people like me.
One caveat: to make this of real value, the Museum will have to provide iPhones to borrow to make the app available to all. Apple should be providing these gratis.