phile under: art
Review: Surfland at Blue Sky Gallery
Joni Sternbach takes tintype to surfers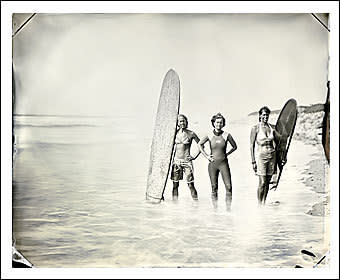 "It's the end of the land sadness, end of the land gladness." —Jack Kerouac
A good surfer friend of mine and his buddies (of both genders) call them "girlfriend pictures," i.e. likely to have been taken by, likely to be most appreciated by the non-surfing girlfriend (or boyfriend). The surfer, of course, prefers see a photo of himself or herself dropping in on a double-overhead face, carving off the lip, or if a longboarder, in a laconic, arched-back, toes-on-the-nose stance. Would rather have, in other words, a record of ephemeral and hard-won accomplishment. Ever hopeful, the surfer returns to the edge of the land again and again…and jumps off.
Joni Sternbach's SurfLand series of tintypes currently up at Blue Sky Gallery (122 NW 8th) captures dry-haired surfers and their weapons of choice at these liminal moments between land and sea. They are photos of potential, possibility, not pose. And what a variety of surfers Sternbach chronicles. By heading to mellow breaks at Del Mar, Rincon (Santa Barbara), Malibu, and Montauk's Ditch Plain, Sternbach, whether intentionally or not shows us the rest of the American surfers, those we won't see in the surf mags. Sternbach captures lifers, little girls, families, middle-aged ladies, a stunning African American girl, and one fabulously pregnant woman.
Sternbach's choice of tintype is inspired—and not just because the tintype, developed on site, forges something of a relation ship between photographer and subject. The tintype's dirty shades of brownish gray tend to make all but the most youthful appear weathered and hard. It emphasizes the physical and likely philosophical distance between viewer and viewed while implying temporal distance via its aged quality. In the center of the gallery, you will feel as if you are looking at photos more than a century old. The tintype also has the effect of making its subjects appear heroic, which of course, as pioneers daily, they are.