phile under: art
First Thursday December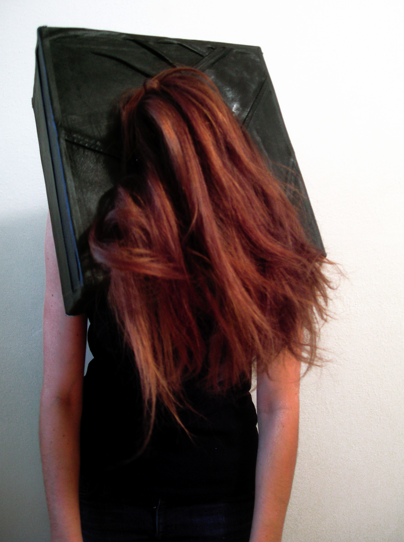 What am I doing this First Thursday, you ask? After Oregon Painting Society at Autzen, I'll head north and mostly, it looks like, take a spin around Everett Lofts (which hasn't always been my M.O). Most receptions begin at 6 PM and carry on til about 8 or 9. But first a stop on 3rd…
4/4
Genevieve Dellinger
Stumptown (128 SW 3rd)
Dellinger's inspiration=accidental patterns like sidewalk cracks and paint drips+4/4 bars of minimal electronic dance music.
From the press release: For this new exhibit, Dellinger questions the borders of function that she had investigated in her long involvement with fashion and presents gigantic banners/blankets, serving both as tapestry wall ornaments and sources of warmth for the body.
WORK | PROGRESS
Dill Pickle Club
Eyeful Gallery (NW 6th & Everett)
This art show and pop-up bookshop to benefit the Dill Pickle Club features work by 24 socially-engaged artists including: Icky A, Brad Adkins, Moe Bowstern, Carye Bye, Bill Daniel, Dyslexxis, Harrell Fletcher, Sarah Gottesdiener, Sam Gould, Anna Gray, MK Guth, Ariana Jacob, Kendra Larson, Ian Lynam, Eric Mast, Justin Scrappers Morrison, Michael Parich, Ryan Wilson Paulsen, Brittany Powell, Khris Soden, Bwana Spoons, Matthew Stadler, Nim Wunnan,
Pete Yahnke.
Cape Perpetua and Niekrasz/ Jenkins Duet (of Why I Must Be Careful) play the opening.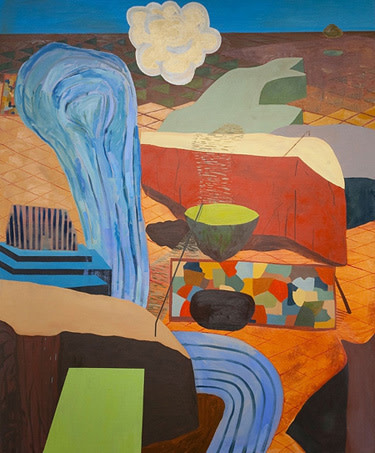 Level 1: Stage 1
John Berry
Half/Dozen Gallery (625 NW Everett St #111)
Pre-Renaissance perspective meets kid stuff like forts and video games? I'm in.
Level 1: Stage 1 comments on ideas of ambition, isolation, illusionary spaces and transcendence. The work draws on imagery from pre-renaissance landscapes, where space is determined more through the relationship of color and shapes than through volumetric forms. Berry integrates this with puzzles, mazes, forts and 8-bit video games, such as Super Mario Brothers and the original Zelda for Nintendo.
The GIF Economy
Weird Fiction
Tractor (328 NW Broadway #114)
Weird Fiction (video band/arts group) embraces the much-maligned animated GIF in their new show at Tractor. Reading Weird Fiction is head-spinningly delicious. I kind of love these guys:
As 2009 expires, Weird Fiction exhumes a curious collection of GIF animations, curating items conjured up from a year's worth of trolling in the deep
dark dungeons of the internets.
This, alongside an emergent compendium of collateral texts, GIF speciation theories and other missives propagated by the (((WFT))) policy institute; who, in an effort to advance their own "ficto-quizzical" mythologies, will facilitate the hoarding of
materials on a dedicated electronic storehouse (weird-fiction.net)
At once an instantiation of the "gift economy" and a call to action within the economy of expression roused by the humble parameters of the Graphic Interchange Format.
Appropriated material, both solicited and scavenged, will be intermingled within this labyrinthine technocultural milieu.
Denizens of the World Wide Web are implored to reanimate dead media and revive retrograde knowledge structures; deploying anomalous information and thereby accelerating GIF speciation.
The GIF is your passport to the immortal realms of mythology mash-ups and off-modern memes. Remember: overexposure to cine-molecular glitchscapes (GIF animations and their kin) may lead to as of yet unknown climes of panopticonscious surrender.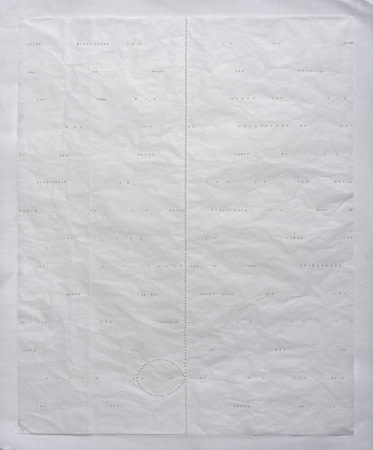 Here & Gone
Kristen Miller
PDX Contemporary (925 NW Flanders)
Subtle works in ephemeral materials like organdy, glassine, thread and bead.