phile under: art
Oregon Painting Society: Radiant Dream Face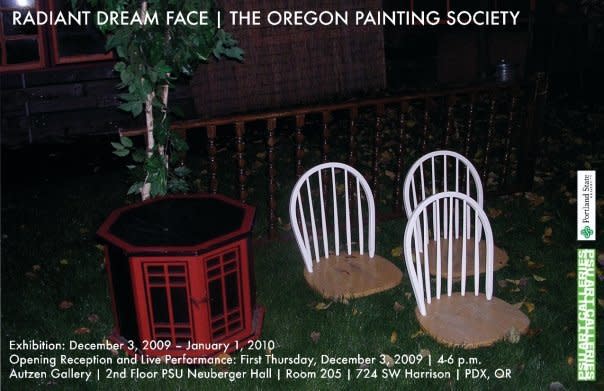 A while ago, I was sitting on the floor in PSU's Autzen Gallery talking with artist Ariana Jacob when in walked the Oregon Painting Society (painting club? no! adventurous arts collaborative) to scope out the place for the exhibition they were planning. And I was instantly intrigued…it's a good space for expansive installation, and I'm eager to see what they do with it (sneak peek via Liam Drain). At two exhibitions at Fontanelle Gallery, OPS did a hybrid installation/group show/performance, and the recently performed at TBA:09.
Theirs is a kind of selectively and radically nostalgic collaborative utopianism with a soundtrack. This time, they're talking spaceship (see below). I just want to be there. Radiant Dream Face opens with a performance and reception from 4-6 PM (note the time, it's early…kind of a pre-First Thursday)today Autzen Gallery (2nd Floor PSU Neuberger Hall, Room 205, 724 SW Harrison) and runs through Jan 1.
Best to let OPS tell you about their ideas here.
Statement:
Radiant Dream Face is a control room on board a starship fashioned from the dreams and detritus of late-20th century West Coast America. This interactive sound-sculpture installation is an extension of ideas Oregon Painting Society has presented in our previous shows at Fontanelle Gallery and TBA:09. In January at Fontanelle, OPS looked at exteriors and outdoor activities; there were banners and flags, tools for cleaning, fishing, planting and harvesting. A sense of a season permeated the show. In this incarnation, we examine and imagine an interior world, one that is climate-controlled. We're not looking at a UFO from the outside; we're inviting the public to come inside the ship.
The general aesthetics of our shows reflect the group's ongoing fascination with the look and philosophies behind the new age and human potential movements, mass-produced consumer goods, DIY home improvement trends, suburban utopianism, and psychedelic transcendentalism. As with our performance at the TBA:09 in September, Radiant Dream Face finds our collective vision skewed away slightly from the rough, pagan feel of past efforts toward a more elegant, sci-fi inspired sensibility. The objects and the method of their arrangement in the gallery willfully distort, defy and establish lines between a number of different interior spaces – intimate domestic setting, office workspace, house of worship, and performance stage are all evoked. There is a feeling of a community space, a shared harmonious reality. The interactive aspect of the show (feel free to touch!) is an invitation not just to take a tour of the ship, but also to try flying it.