phile under: all's fair
Publication Fair
for the love of printed matter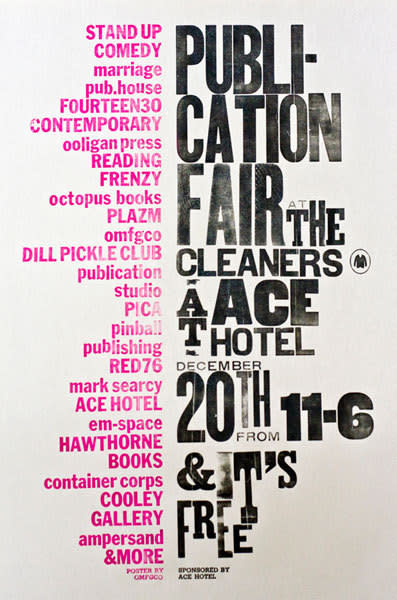 Yes, Sir Isaac Newton, for every action there is indeed an equal and opposite reaction. As possible methods of idea transmission continue to multiply, so in the book capital of the west there is a resurgence in interest in good old-fashioned printing from broadside to book.
Publication Studio this weekend hosts a Publication Fair, Sunday 11-6 at The Cleaners at the Ace Hotel (SW Stark at 10th), to showcase the wares of local publishers of books and magazines, arts groups, shops, galleries, and arts institutions that sell or make printed matter.
These include
Octopus Books, Peaches and Bats, Ooligan Press, Stand Up Comedy, Veneer Magazine, Marriage Publishing House, Reading Frenzy, Plazm, Cooley Gallery, Fourteen30 Contemporary, PICA, Ampersand, Red76, Dill Pickle Club, IPRC, Hawthorne Books, Mark Searcy, Sarah Meadows, Pinball Publishing, Container Corps, and Publication Studio.
There will also be publication info sessions on "Material Practices, Social Practices, and Digital Practices."