phile under: art
First Thursday January
Interiors: An Invitational Group Exhibit
Froelick Gallery
714 NW Davis
First Thursday Reception: January 7, 5–8 PM
Interiors here means both shelter and psyche, with selected works by artists including Vito Acconci (photo documentation of his "Seedbed" performance), Marco Buti's remarkable prints, and work by Isabelle Scurry Chapman, Joe Deal, Matthew Dennison, Raymond Depardon, Walker Evans, Benny Fountain, Jeremiah Goodman, Shelley Jordan, Kevin Kadar, André Kertész, Ralph Eugene Meatyard, Susan Seubert, Jeff Stuhr, Lli Wilburn, "and a selection of very odd vernacular photographs."
Glass House, an interactive installation
Jennifer Jacobs
Tractor (328 NW Broadway #114)
Exploring a city is like walking through a hall of mirrors. The surfaces of the urban environment are tuned to reflect elements of your personality back to you with varying degrees of distortion. Observation is central to the flow of power in the city; It feeds into our personal vanities and controls us through our awareness of a detached surveillance. Our modified reflections cause us to engage in a form of self-evaluation and censure. There is a paradoxical relationship with the urban image of ourselves in that we wish to be observed, yet we are conscious of the control this observation exerts over us. Glasshouse examines the contention between narcissism and self-imposed surveillance. The piece itself is an interactive projection of glittering structures resembling city skyscrapers. As the viewer explores these structures, they impose a distorted portrait back upon them in imposing scale. The city's movement responds to the flow of people throughout the space. The longer the viewer progresses through the city, the more their image is echoed around them. After the viewer leaves, their presence remains, gradually fading to be replaced with the images of others who follow through their own path of exploration. The audience is caught between self-spectacle and self-consciousness, uncertain of their control over the space, but implicitly aware of their presence within it.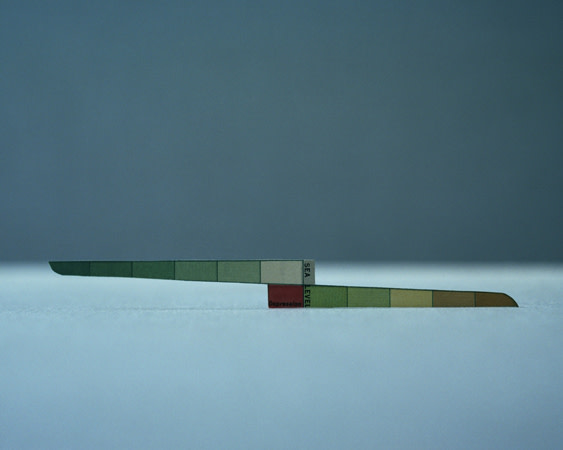 Folded in Place
John Mann
PDX Across the Hall (925 NW Flanders)
Meanwhile, at PDX Across the Hall, John Mann deals with exteriors or landscapes through a series of photos of map-based constructions/deconstructions that look sensational in their low-res online glory so I can't wait to see in real life.
The photographs in this series are informed by the varied ways that photography, mapping, drawing and sculpture have each tried to describe the landscape. By incorporating each of these methods, Folded in Place highlights the abstraction of the landscape traditionally offered by these means, while creating a tangible photographic "place" in each image that is occupied by a mapped construction. The images therefore provide precise photographic and mapped information while at the same time offering an abstraction of the landscape itself.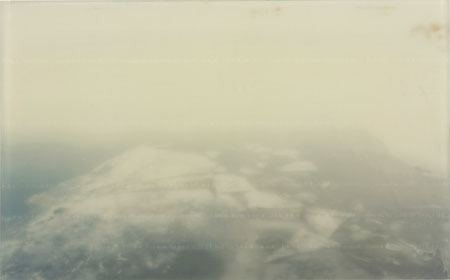 Porcelain
Megan Murphy
PDX Contemporary (925 NW Flanders">
In Porcelain and Other Works, Megan Murphy uses historical events and locations to construct an understanding of how our contemporary selves and culture are informed by the subjectivity of recorded history. From photographs that she has taken on location—places that are often remote and imbued with dramatic, emotional histories—Murphy produces a transparent image that she then mounts between a mirror and a sheet of glass. Then begins a process of building up and removing dozens of layers of paint and text, imbuing the paint with an internal luminosity while replicating the effects of time: actions once taken and now remembered by how they are revealed through the progression and reflection of time.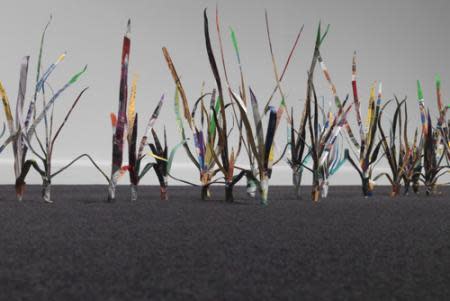 Patterning
Scott Wolniak
Chambers Gallery (916 NW Flanders)
I'm fascinated by number, rhythm, pattern especially those naturally occurring (closet Pythagorean that I am). And so I'm interested in Scott Wolniak's Patterning at Chambers.
Patterning unites several projects by Scott Wolniak that utilize repetition and rhythm to examine structures found in studio art practice and everyday life. Exhibited projects include two sculptural installations built from found items and household debris entitled Weeds and Grass, the intricate graphite drawing series Untitled Tie-Dyes, the bright Simulated Sunprints, and the single-channel video installation Musical Notes in Harmony with the Attuned Healing Colors. Together, the series explore patterns – found or created – as concept, system, and compositional template.
Play for Keeps
Group Show
Tribute Gallery (328 NW Broadway #117)
Guest curators Elizabeth Lamb and Chloe Gallagher have pulled together works on paper by a national roster of artists to explore "the often underrated importance of play."
Featured artists include Jon MacNair from Baltimore, MD whose playful yet eerie works of ink on paper have earned him a national following. Joshua Witten, hailing from Fort Collins, IN, works in a variety of media and possesses an impressive mastery of his bold, graphic style. Mixed media artist Patrick Haemmerlein from Los Angeles builds arresting urban images from the ground up using his own photography and source material. Ashley Sloan, a local Portland artist, will be exhibiting clever, thought-provoking graphite works. And, Max Kauffman, hailing from Denver, CO, whose colorful, folkloric works have been exhibited at a number of prominent national galleries, will also be featured. The exhibit will also include works by Brett Anderson, Huy Nguyen, Garric Simonsen, Angela Dawn, Breanne Rupp, Megan Marie Myers, Brian Costello, Jackie Bos, Karri Dieken, Stephan Ferreira, Mark Colman, Heidi Elise Wirz, Coco Papy, Sally Gilmore, Mark Olwick, Louise Krampien and Cara Tomlinson.