phile under: craft talk
Live Craft: Gestures of Resistance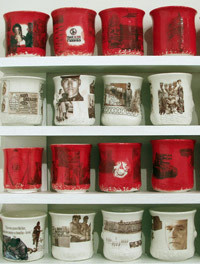 When the Museum of Contemporary Craft reconsidered the meanings of craft itself as it moved from Corbett to the DeSoto Building, one notable idea that the institution embraced was that of craft as a verb in contrast to work made simply in a particular material (wood, ceramic). The new exhibition that opens today, Gestures of Resistance, promises to be the boldest yet curatorial move in that direction. It is both an episodic series of installations that build on one another in the space of the museum and craft performances that happen both inside and outside of the museum. I'm including information from the curators and the museum below.
The curators Judith Leemann and Shannon Stratton tonight talk about craft actions, using craft to agitate for change, and their exhibition at the Museum at 6:30 PM.
The exhibition has an independent website and a
More information:
Gestures of Resistance is an ongoing creative/critical undertaking by Shannon Stratton and Judith Leemann. With particular interest in the relationship of slowness and agency within the realm of craft, we delineate and then proceed to interrogate a species of action in which self-conscious crafting, contextual mischief-making, and cultural re-scripting play themselves out.
Gestures of Resistance examines work by contemporary artists who focus on craft actions and create works that use craft to agitate for change. Rather than present a grouping of objects, the exhibition unfolds over its tenure at the Museum. Through a series of seven artist residencies, open conversations and a study center, the exhibition is a timely examination of what it means to create, to have personal agency, and to counter drives towards productivity and consumption through craft.
Sara Black and John Preus (January 26–February 6) begin the exhibition through a live buildout of the museum, creating a workshop space from inherited materials that acts simultaneously as platform, town square and sculpture. This space becomes the staging area for all subsequent resident artists, who will transform and manipulate the space through their performances and objects.
Anthea Black (February 19–March 10) is a Canadian printmaker known for her subversive postering campaigns who will recruit queer youth to deploy her two-sided poster prints across Portland.
Carole Lung, AKA Frau Fiber (March 18–27), an itinerant textile worker, will address herself to the specifics of Portland's garment culture – hacking a Columbia Sportswear design for rain gear and sewing five sets of the garment using a bicycle-powered sewing machine.
Mung Lar Lam (April 1–3) will perform Ironings, a meditation on labor, gender and class in which the task of ironing becomes the means of mark-making, with the unfolded cloth acting as a mosaic fanning across the gallery walls.
Cat Mazza (May 18–22), whose Nike Blanket Petition won her acclaim in both the craft and anti-sweatshop movements, will set up a process by which cast-offs of Michelle Obama's favorite popular clothing brands are repurposed into a new sculpture on site.
Ehren Tool (June 1–12), a veteran of the first Gulf War and a potter, will exhaust a supply of porcelain over the course of a durational performance throwing cups. These cups will then act as building blocks to construct and then deconstruct divisions within the gallery, and ultimately will be given away to visitors in the Museum.
Theaster Gates (June 18–19) will whitewash everything that has come before in delicate porcelain slip and conclude the exhibition with a public performance in the Museum space.