phile under: performance
Domestic/Wild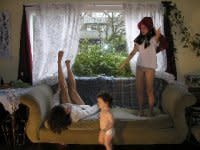 I have been waiting for this one. Opening this Friday, January 22 Alembic #6: DOMESTIC/WILD curated by Kathleen Keogh and devised by Emily Stone will see performers from Seattle and Portland use sound, dance, video, and performative lecture to "trace the porous border between the home and the feral." Emily Stone's clever, fierce, and often funny performance would get me there in a heartbeat, but throw in Jonathan Sielaff playing improvised music as one-half of Golden Retriever and Woolly Mammoth Comes to Dinner, and you don't have to ask twice. The evening features video of site-specific dances in response to blackberry bushes, mud flats, and tool sheds, while mothers, drawing from their "surpisingly feral domestic lives" make dances about "holding the house together" or "running away from home," and a lecture about a herd of American Spotted Asses. The complete lineup includes Emily Stone, Karin Bolender of the Rural Alchemy Workshop (Georgia), Woolly Mammoth Comes to Dinner, Kestrel Gates, Rebecca Harrison, Rachel Kofron, Corrie Befort (Seattle), Beth Graczyk (Seattle), Sheri Cohen (Seattle), and Golden Retriever (Matt Carlson and Jonathan Sielaff, formerly of Parenthetical Girls and AU, respectively).
Performances January 22 and 23 at 8 PM and a January 24 matinee at 4 PM at Performance Works Northwest (4625 SE 67th) Tickets: $10-15. Reserve at 503-777-1907.
EDIT: I changed this post to reflect that I brilliantly mistyped an address I've visited many times…PWNW is on SE 67th NOT NE 7th. Thanks Kathleen Keogh for heads up.