phile under: art
Cy Twombly at Portland Art Museum
opens today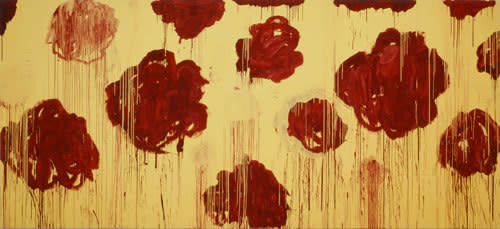 A favorite Portland indoor hike is the through-the-tunnel and up-the-stairs trek to the Miller-Miegs space on the 4th floor of the Jubitz Center for Modern and Contemporary Art at the Portland Art Museum (note: name almost as long as trek). Starting today in that space, find three recent works by influential gestural abstractionist Cy Twombly, two paintings and a bronze sculpture.
One of the works, "Untitled," is from his "A Scattering of Blossoms and Other Things" series, a "peony" painting.
AH! The Peonies
For which
Kusunoki
Took off his
Armour
—Takarai Kikaku
The octogenarian artist has had two recent retrospectives at Tate Modern, London, and the Art Institute of Chicago.
On Wednesday, February 10 at 12:30 PM Chief Curator Bruce Guenther hosts a Midday Art Break viewing and talking about Twombly's work. Free with admission or membership.
Through May 16.