phile under: art
First Friday February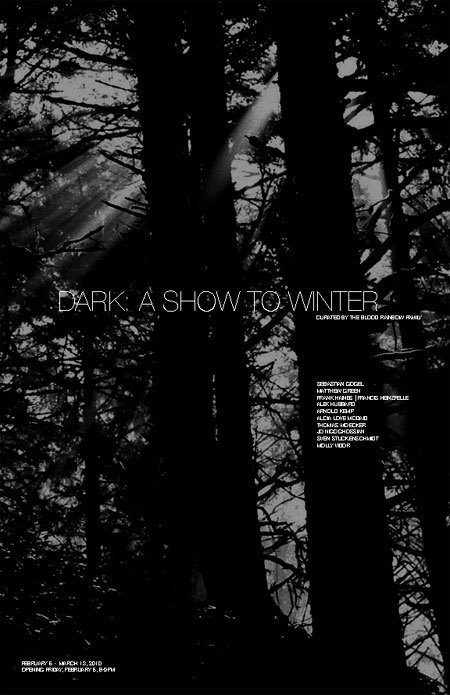 Dark: A Show to Winter
curated by Blood Rainbow Family
Fourteen30
1430 SE 3rd Avenue
Reception Friday, February 5, 6-9PM
A burnt troll, a tranquil pool, the oppressive mass and textural complexities of a wall-sized void…while there are a number of strong group shows this month, Dark: A Show to Winter is going to be the most talked about for good reason. The exhibition brings together work by an international roster of artists that addresses, mines, answers darkness in multivariate and, thanks to curators Blood Rainbow Family (who curated the massive Haunted exhibition at Disjecta's Templeton space), surprising ways. Because dark, a void, as Brenden Clenaghen notes, can be as much a place of rest in an image-saturated world, a place of transcendence, as it can be ominous, foreboding, or provocative.
From Fourteen30:
In a 1998 interview Alan Vega of electronic duo Suicide described the live experience of the band as "you are coming off the street to come into the street." The exhibition Dark: A Show to Winter will function under the same premise. Opening during the dead of a Portland winter, Dark will include work that addresses and/or reflects this outside environment. The grim, the cold and the black will mingle with the solitary, the contemplative and the transcendent. Explorations of dark and winter drawn from both a common visual culture, as well as more personal voids, will work together to bring the vast, seemingly endless dark winter into the confines of the gallery space.
Sebastian Gogel: Leipzig, DE
Matthew Green: Portland, OR
Frank Haines | Francis Heinzfeller: Brooklyn, NY
Alex Hubbard: Brooklyn, NY
Arnold Kemp: Portland, OR
Alicia Love McDaid: Portland, OR
Thomas Moecker: Leipzig, DE
Jo Nigoghossian: NYC, NY
Sven Stuckenschmidt: Berlin, DE
Molly Vidor: Portland, OR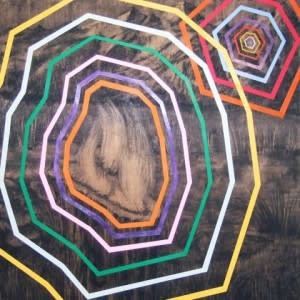 Kendra Larson + Kurtiss Lofstrom
galleryHOMELAND
2505 SE 11th
New work by two Portland-based painters.
!Obsolete Dreams
Corey Smith
Worksound
820 SE Alder
"Amid famine, collapse, and massacre, we dream of freedom. From the pyramid to the moon shuttle, man's greatest endeavor has always been to subjugate death and the dreams of sleep—to own them, control them, escape there—to paint our own new futures onto the blank slate of unfilled coordinates.
In Obsolete Dreams, Corey Smith confronts the hulking physicality of these useless masters of dreams and death: Cold-War stealth bombers, moon shuttles, astronauts, the unholy engine fueled by the American flag. Smith makes them according to their own dream logic, that alien symbolism of deflective curve and angle that is both perfect and perfectly incomprehensible to the life that is always right here in front of us.
In Smith's work, silent death comes in the bright colors of advertising, and bombers swing lovely as children's models on wires. The grim, grey haze of a satellite photo takes on a more intense reality than the one you know, because it comes from that high, floating future. Even if the art of science is war and escape, there's nothing more romantic than chasing the zero all the way down."