phile under: music
Ordo Virtutum
morality plays, manbands, and Hildegard von Bingen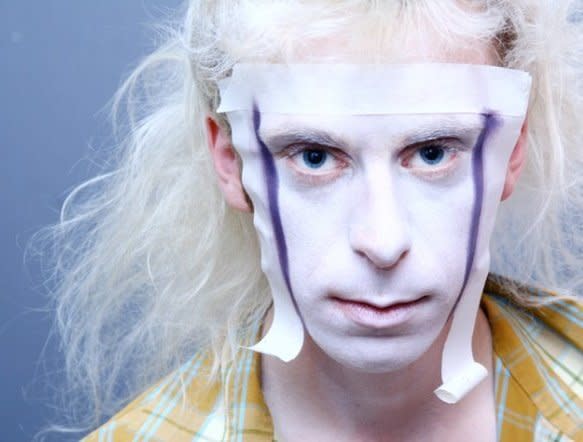 The Devil is played by a boombox.
A Medieval morality play gets a 21st century treatment by Stephen Marc Beaudoin, Ben Landsverk, Kaj-anne Pepper, the FourScore classical manband and friends. If Beaudoin's name sounds familiar, you'll recall that he wrote criticism for both the Mercury and the Willamette Week. And so it is not with a little irony that those of you who remember the tenor of Beaudoin's criticism will appreciate that he plays the role of Mercy in (as well as directs) Hildegard von Bingen's "Ordo Virtutum" this Sunday, February 21 at 2 PM at First Presbyterian Church (1200 SW Alder, SW12th and Alder). Admission is $10.
I asked the new kindler, gentler (and did I mention classically trained) Beaudoin how he became interested in von Bingen's work. "I got turned on to Hildegard's music in college at New England Conservatory," says Beaudoin. "We did a big recording project to commemorate her 900th birthday in 1998, and I'd been yearning to do something outlandish with the Ordo Virtutum ever since.
"So many of the recordings and performances by early music 'specialists' sound like wallpaper music. And I wanted to tap into the radical, visionary aspects of her being and her music."
For radical, Beaudoin has brought in Kaj-anne Pepper both to perform the role of the Soul, doubling a singer playing the role, and to create movement for the non-dancerly singers. Pepper is a committed, adventurous dancer and dancemaker who has performed with Sissyboy and the Gender Fluids and choreographed the finale for Ten Tiny Dances at PICA's 2009 TBA Festival.
In Ordo Virtutum, the Virtues battle the Devil for the human Soul…does this good/evil struggle not sound terribly contemporary though this piece premiered in 1152? In an era of uncertainty (aside: I previewed Disquieted at the Portland Art Museum today!), how appropriate to return to a simple, binary framing of modern complexities.
I love the to-do list Beaudoin recently posted on his blog because it says a lot about what we can expect. Mega choir? Girl as Devil? Ribbon pop effects?
Hildegard to-do's today:
1. Create Facebook event
2. Respond to all of AVB's emails
3. Email SD about PSU tix
4. Recruit 50 more singers for mega-choir
5. Remind singers to bring schedule-books tomorrow
6. 8 music stands in First Pres
7. Mtg with Jon Stuber RE organ improv's, talk tomorrow, play on Feb 7? (4, then 2, 5, 18, 87) – copy for Jon S, length of improvisations (1.5-2 mins for first one; 2 min's for second one)
8. Ribbon for effect
9. FourScore mtg to record Devil speaking parts
10. Recruit girl for Devil (Odile, Tuesday's sister's daughter?; who else has a young girl/daughter that could do this?)
11. Tape recorder from Kristen
12. Costumes/makeup????
13. KP photo, credit to Eric Sellers
14. Investigate ribbon pop effects with KP
15. Finalize solo coachings for next 2 weeks
16. Program translation? To AVB
More from the press release:
The musical approach to the work is led by noted Portland singer/conductor Ben Landsverk. Landsverk's eclectic approach to instrumentation, voice combinations and choral arrangements in the "Ordo Virtutum" ranges from Notre Dame school era organum to Messiaen-inspired choral explosions and free improvisation. FourScore classical manband (Ben Kinkley, Ben Landsverk, Brian Francis and Stephen Marc Beaudoin) is the house band for the work, performing on both early and modern instruments, including banjo, trumpet, piano, laptop, melodica, recorder, electric guitar, chimes and tape recorder.
Stephen Marc Beaudoin ("The Beggar's Opera," Opera Theater Oregon) stage directs, and the movement and choreography is by Kaj-anne Pepper. Additional cast members include Andy McQuery, Maria Karlin, Gigi Urban and Kristen Buhler. First Presbyterian Church organist Jon Stuber is special guest performer, and the entire company will be joined by a special pick-up choir featuring more than 100 local singers from groups including Roxy Consort, Flash Choir and Portland Vocal Consort, as well as students from Lewis and Clark College and Portland State University.
A clip from a rehearsal might whet your appetite: