phile under: art
Depending On Where You Stand: Victor Maldonado's LESS at Froelick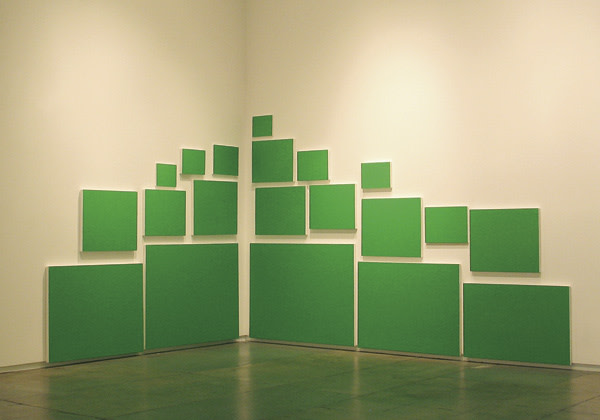 Seeing green. Painted a spring grass, pop-ish green, the dozen-plus canvases hung in a squared pyramid read either as monochromatic or seething with the texture of gold glitter static depending on how the light hits them and depending on where you stand. The paintings by Victor Maldonado are part of his current show, LESS, at Froelick Gallery. The title of the series, "Green Screen," invokes the movie technology allowing the placement of an actor into any digitally created environment. Maldonado, who has said that each "Green Screen" painting represents one of the televisions that he grew up with, recently talked about the paintings dealing with his experience, as a first generation immigrant, of learning English by watching American television. They may have been portals to assimilation via language and pop culture for Maldonado, but by making "green screens" of remembered televisions Maldonado points to a more broadly applicable truism that TV allows any viewer to place him or herself vicariously into alternate scenarios while simultaneously pointing out that the real action happens in front of the screen. If I worry that the rich metaphorical underpainting of ideas (and indeed, autobiographical narrative) that girds these works may remain below the waterline for some viewers, I also bear in mind the ubiquity of the screen in American life and the myriad things a viewer can project onto it (pun intended). In a pre-screen world, after all, it was the painting that invited us to another world, that stimulated conversation, provided education, entertainment.
As Maldonado said at a weekend talk at galleryHOMELAND, his recent residency in Berlin (via HOMELAND) has him thinking about border zones, crossings, and liminality more than ever. Across the gallery from the "Green Screen" paintings is a group of four large canvases in the same grass green, but printed with sections of gold cyclone fence. The unobtrusive holes rent in the lower left of the fence are what transform them into the "Gate," of the title. It's a neat trick that the same hue says something completely different in this context, not only as grass-being-greener-on-other-side-of-fence, but as a springlike hopefulness (complicated by a fence made of solid gold) that both entices and strives to keep the hopeful out.
Maldonado once had a teacher who talked about making something that "looks like" art. In making something that "looks like" a child of minimalism sprinkled with a little pop gold dust, Maldonado invites you to look and look again in more ways than one (its subject further complicated by our vantage point from a fine art gallery in the Pearl District). Maldonado's refusal of didacticism in favor of subtlety creates a wide-open invitation for broader engagement of the issues that concern him.