Culture Calendar
Date Night
Attend a stimulating lecture with that special someone?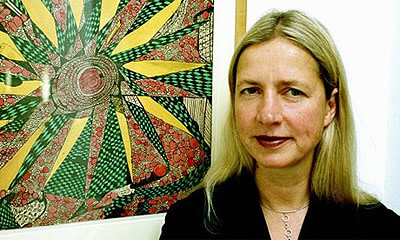 With apologies to Steve Carell and Tina Fey, we're rolling out a new blog feature (which could show up in any blog at any time) called Date Night. Our hopelessly romantic staffers have pooled their knowledge to come up with a choice assortment of cultural itineraries that should make for a very memorable night on the town.
The first installment features Iwona Blazwick's lecture at Portland Art Museum, titled Just What Is It That Makes Today's Institutions So Different, So Appealing?
The title of Iwona Blazwick's lecture is a reference to fellow Londoner Richard Hamilton's 1956 collage of a similar name (art historians love their "in" jokes). Blazwick will lead a heady discussion about museums in Portland's own white-walled bastion of visual culture as part of the Critical Voices Lecture Series. The sizable influence of the museum itself on the artworks it houses has become a hot topic in art history and criticism. Blazwick, director of the newly renovated Whitechapel Gallery in London, will regale her audience about the rise of the museum in recent years from a cold storage for Old Masters to a cultural destination for the masses. Using Whitechapel as a focal point, the discussion will branch out to consider the greater implications of institutions in today's art world.
You can then utilize your newfound understanding of the museum structure by exploring the main exhibition at PAM: Disquieted. Note the cinematic subtleties of Gregory Crewdson's unnervingly silent photographs and the mesmerizing intensity of Shirin Neshat's video work. Impress your date with words like "superflat," "site-specificity," and "gift shop."
Afterward, take a stroll over to Higgins where you can continue your cultured conversation as the knowledgeable cicerone pairs your seasonal entrees with a suitable selection from their expansive beer menu. Seriously, it's huge.
Of course, if you're all done with quiet culture for the day, you can always grab a slice at Rocco's on your way to catch HIM at the Roseland.