phile under: art
Donald Judd: Delegated Fabrication
a rare opportunity to see work by minimalist master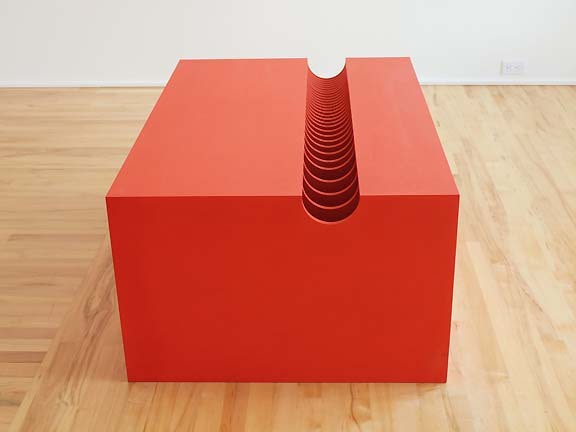 Portland has a rare opportunity to see not just several works by renowned minimalist artist Donald Judd, but also some of the ephemera related to the building of those specific objects and a documentary film at Donald Judd: Delegated Fabrication at The White Box gallery at the University of Oregon's White Stag Building just north of the Burnside Bridge on the north side. The exhibition was organized on the occasion of this past weekend's conference of the same name curated by longtime Judd fabricator, Peter Ballantine and Arcy Douglass with assistance from Jeff Jahn. Featuring remarkable a cadmium stained plywood floor piece from the Miller-Meigs Collection dating to 1963, two plywood wall pieces, and a striking amber plexiglass piece (each named "Untitled"), the exhibition will be on view through May 21.
Why in Portland? The conceit of the show is that in 1974, Donald Judd did a plywood installation at the Portland Center for the Visual Arts (1972 to ~1988), the artist-driven kunsthalle in Old Town. As Portland Art Museum chief curator Bruce Guenther pointed out at the conference, Judd had previously done a couple of related plywood works at the Lisson Gallery in London when he was invited to do an installation at PCVA. Peter Ballantine said that Judd was attracted to the plywood as an ordinary material, and he used it in Portland in its uncut sizes of approximately 4′ × 8′. "Used" is perhaps the wrong word, as the daylong symposium addressed the fact that Judd, beginning in 1964 (according to Ballantine) outsourced the fabrication of his objects to shops like Ballantine's. The most notable thing to come out of the conference from a local angle is that the PCVA installation—a massive u-shaped box hugging three walls of PCVA's expansive space—was the only installation to Ballantine's knowledge ever fabricated by a team of volunteers. Hence what I'm going to call henceforth the "Portland shim," visible in one of the photos, that dealt with the vagaries of the sagging PCVA floor.
The Portland Art Museum does have a Judd in The Jubitz Center for Modern and Contemporary Art, and through May 1, you can see an exhibition of Donald Judd prints at the Elizabeth Leach Gallery.