Arts Happenings
Between Theater and Bar
Two comedic productions span the gap.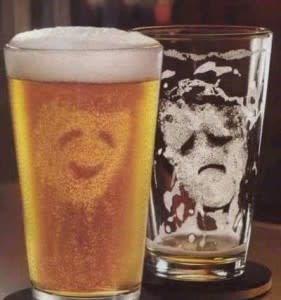 This last Sunday and Wednesday, I went to the theater—or, rather, I went to bars that were hosting theater productions. And I learned that these are not the same thing. Bar-hosted theater inhabits the hazy badlands between regular theater, where actors have something to prove and everybody feels their pain, and your neighborhood bar, where you've got nothing to prove, and everybody knows your name. Can the difference be split? Audience turnout and enthusiasm say "yes."
Hot Gun is a multimedia musical/movie screening, featuring footage from the 1986 blockbuster Top Gun, with the floating heads of actors from the live production, edited into flight-scene close-ups. The projected footage is interspersed with live rock covers and choreographed dance numbers.
The MEthod by Lisa Wells, is a mock-self-help seminar, complete with name tags that diagnose personal mental maladies ("Hi, my name is Lonely"), a screening of a MEthod mock-infomercial, a tongue-in-cheek "keynote speech" and a slideshow. Last Sunday, the piece was presented as a split bill, with Wells running the first show, and the second act furnishing a mock-AA-confession, mock-dance therapy, and a mock-hypnotist. (Gee—mock much?)
Partially due to the logistical scope of each piece, both productions weighed in on the rowdier, sillier, sloppier side of theater standards. Both contained moments of confusion, stalls in momentum, flubs and messups. Nevertheless, in both rooms, the performers hammed valliantly, and the crowds went wild. Here's the key: each of the bars that hosted these shows (Hot Gun, Dante's; MEthod, The Woods) has a "scene." You can say it ain't so, but you'll see the same people there all the time.* And in each case, the cast was down with the scene in the bar, as much as the scenes they were playing out onstage. They knew their audience—literally.
To be sure, there was some universal humor (Hot Gun's delivery of the gayest original Top Gun lines, in the gayest possible way; Wells' assertion that everyone can have a two million dollar home if they just ask the universe) but the laughs were loudest with the in-crowd. The novelty of seeing friends dressed funny, and/or comically incorporated into video footage, was the bulk of the fun.
Hot Gun director Jeffrey Wonderful (Chariots of Rubber, Rose City Rollers, Portland Organic Wrestling) was candid in his opening speech: "We don't give a f**k what you think of this show," he announced. "This is community theater." Wells seemed more primed to court the public; she kept character throughout, and seemed to be workshopping glitches out of her show at a friends-only dress rehearsal, in preparation to go wider-scope in future performances.
But what does my week in bar theater mean to you, the consumer? Connoisseurs, consider it caveat emptor: this is gonzo, and only the bartender is there to serve you, so no toffee-nosed elitism will be tolerated. To make the most of bar-theater, adopt the "when in Rome" axiom. Show up a little late; you'll still be early. Either bring friends, or make them. Laugh at all jokes, but first and foremost: drink.
*Full disclosure: post author sometimes moonlights as The Woods' doorman. (In addition to this column, post author has many moonlight pursuits.)