Recent Snaps
Cut and Paste
Van Sant and Warhol exhibitions expand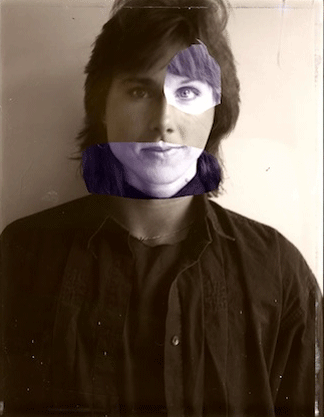 Cut-ups & One Step Big Shot
Polaroids in Portland and Eugene by Gus Van Sant and Andy Warhol
It seems to be a strangely interconnected summer for Northwest art galleries and museums.* Two venues have collaborated in spanning the I-5 corridor to bring the viewing public a richer experience. PDX Contemporary Art's May exhibition, Cut-ups, features photographs digitally collaged by filmmaker and Portland aficionado Gus Van Sant, while the Jordan Schnitzer Museum of Art presents straight Polaroids by Van Sant and Andy Warhol along with film and print work in their exhibition One Step Big Shot.
Each comprised of multiple casting shots Van Sant has taken over the years, the images in Cut-ups invoke an uneasy link between their myriad subjects. The outlines and features of faces line up at times in a strange metamorphosis while in other spots the overlap is more jarring. A comment on the nature of the portrait and its relation to an individual identity, the works reference William S. Burroughs and Van Sant's interest in re-contextualization.
At the JSMA, the eagerly-awaited pairing of Van Sant and Andy Warhol opened this weekend to much pomp and circumstance. Complete with live music from The Hugs and a photobooth, the masses of visitors were not disappointed. Presented in tidy rows, the Polaroids by both artists looked unassuming next to the larger photographic blowups and Warhol's vivid prints. Each miniscule photograph is, however, a poignant example of the scrapbook-like nature of these pictures. And the emphasis on the instant film materials is one that is prominent in both artists' work as well as the exhibition as a whole.
First meant as records of people and faces, the images at the JSMA form the basis for the works on view at PDX Contemporary Art. Each portrait is reworked from its humble beginnings to take on larger artistic concepts. "The collages by Van Sant," posits Lawrence Fong, curator of American and Regional Art at the JSMA, "reconfigure the portrait with elements similar to Warhol's use of blocks and swatches of color, gestural marks and drawing."
And, although shows like One Step Big Shot may seem en vogue, this exhibition has been in planning since the JSMA received over 150 of Warhol's original Polaroid and photographic prints in 2008 from the Andy Warhol Foundation for the Visual Arts as part of its "Legacy Program," which has distributed similar portfolios to hundreds of other museums across the country.
"During the past year or two many of the other recipient art museums have been organizing exhibits of their Warhol prints, and this will continue," notes Fong, "The other factor is the new 'Impossible Project,' the revival of Polaroid-type instant films."
It's definitely worth your while to head on down to Eugene for the companion exhibit to that at PDX. And while you're there you can pick up a copy of the Nazraeli Press catalog with stunning reproductions of Van Sant's works that have been so carefully spliced in Cut-ups.
*Seattle Art Museum Warhol/Cobain show; JSMA show; PDX; Warhol images at Reed College in "Scarecrow"
Full disclosure: In my off hours as a sensational arts blogger here at Portland Monthly, I also work for PDX Contemporary Art. And I used to work for the JSMA while I was in grad school at UO. You have been warned..