phile under: sport-rock spectacle, pride pre-func
Pop Star Ping Pong War!
Local talent rallies to send one of their own to the Gay Games.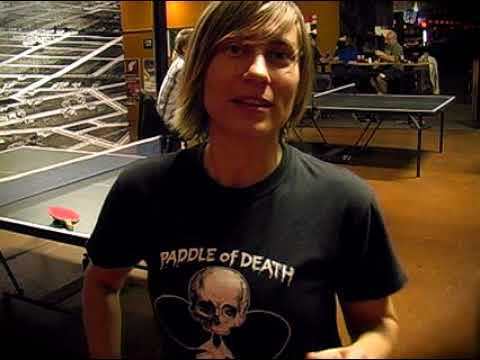 Mercury or Willy Week?
Sleater-Kinney or Explode Into Colors?
Thermals or Starf*cker?
Which local rock luminaries will prevail in a ping pong showdown?
Tonight at Holocene, eight celebrity doubles teams take to the tables in support of Kaia Wilson's (Butchies, Adickdid, Team Dresch, pictured) dream to compete in the Gay Games this summer in Cologne, Germany. Wilson has been rigorously training for the games under the moniker "Spin Slayer," hoping to become "the best ponger in the northern hemisphere." In preparation for her world conquest, she challenges tonight's winning team to an epic paddling.
THE TEAMS:
Kathy Foster & Westin Glass (the Thermals)?
Ryan Biornstad & Shawn Glassford (Starf*cker)?
Lisa Schonberg & Heather Treadway (Explode into Colors/STLS)?
Joe Preston (Thrones) & Donna Dresch (Team Dresch)?
Alex Smith & Sean Sumler (AS/SS)?
Rachel Blumberg (drummer extraordinaire) & Ezra Ace Caraeff (Portland Mercury)?
Michael Mannheimer & Casey Jarman (WWeek)?
Janet Weiss (S-K, Quasi) & Carrie Brownstein (S-K, Monitor Mix)
Tickets $5 (or more) at the door.
Click here to learn more about the Gay Games.