phile under: early summer family fun
Weekend Pending
Your options are mostly family friendly, and weather-permitting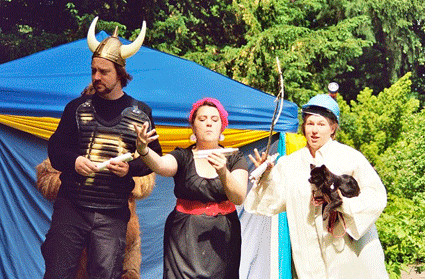 Original Practice Shakespeare, or OPS, is committed to keeping it old school—meaning sixteenth century. In its kickoff weekend, the group presents Shakespeare's Much Adoe About Nothing, the way it would've been done in the day of the Bard: in the open air, with a fast-paced, irreverent flair. Saturday, Gabriel Park; Sunday, Esther Short Park; 2 PM, free.
Look out, gradually maturing hipsters—a youth rock army is mobilizing for world conquest, via a recent explosion of organized camps, classes, and seminars. The musical ideals that you cultivated through precious private obsession, have now been condensed into coursework that fast-tracks school kids into the rock 'n' roll spotlight! And according to my sources, School Of Rock delivers exuberant, shockingly skilled performances. So, go ahead and tender your resignation at The Hawthorne Theater Saturday afternoon, when School Of Rock tackles Talking Heads.
Neil Young has some pretty nice things to say about recent tourmate Bert Jansch; most notably, "He's on the same level as Jimi Hendrix." Now, does Neil Young seem like the type of guy who'd lie? Saturday, Mississippi Studios.
This variation of the classic, penned by U of P's Conor Eifler, features Venetian masks, puppets and stilt stunts, and the script apparently plays up the original story's existential twist. Interstate Firehouse, Friday through Sunday.
Rose Festival Grand Floral Parade
Floats may be the purest form of spectacle value. Extravagantly giant, garish, and slow, they drift along like gaudy cumulus clouds. Line up beside your fellow Portlanders for the annual mass-hypnosis. Here's Sunday's parade route.
R. Crumb's Book Of Genesis
Cartoonist provocateur illustrates the Good Book. See Graham Bell's preview here.