Phile under: live show review
Hollywood Ending
Brian Jonestown Massacre's Matt Hollywood delivers his final show as a Portlander.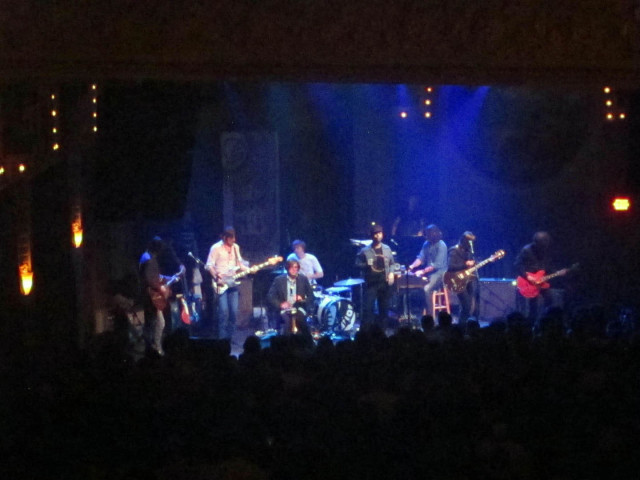 Thursday's Brian Jonestown Massacre show marked the end of an era: longtime Portlander Matt Hollywood's nod goodbye, to a town he has recently stopped calling home, hinting that his next stay may be in Germany. Meanwhile, the band, which captured worldwide recognition in the 2004 documentary DiG! for epic psychedelica punctuated by torrid displays of infighting, brought both hallmarks to the Crystal Ballroom.
"You know why you guys have four f**king guitars up here? It's so nobody can hear what each of you is actually playing!" blasted lead singer Anton Newcombe, banishing one of the BJM's eight-player lineup to the wings for the final two songs. This (minor, by band standards) blowup seemed unwarranted, however, as the performance overall showcased BJM's music at its best—an expansive, heavy tapestry of sound, with each echoey riff and vocal tucked neatly into its own sonic pocket.
Hollywood, who typically faces the crowd head-on while Newcombe sings sidelong, delivered strong performances of the BJM hits he leads, especially "Not If You Were The Last Dandy On Earth," featuring a tambourine cameo by Dandy Warhol Zia McCabe, and "Cabin Fever," a seven-minute masterpiece he penned about basement-dwelling and depression—likely coated with a fresh layer of angst from his pre-tour residence in a North Portland basement apartment.
Whether or not he ever returns full-time to "the 503," Hollywood's songwriting themes will probably continue to resonate, not only with locals who've long followed BJM, but also with Portland's ever-expanding caste of young, hungry, bohemian desperados.