phile under: first thursday
First Thursday Picks
Gallery openings explore many dimensions, and indie cult faves close the evening.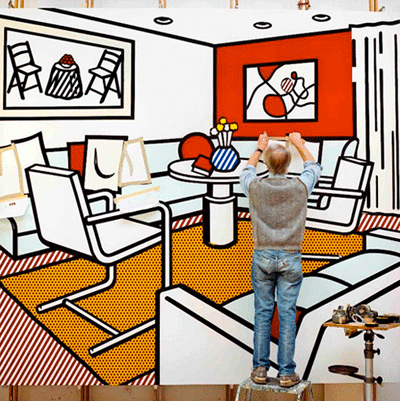 GALLERY OPENINGS
Blue Sky Gallery
From the Studio of Roy Lichtenstein
by Laurie Lambrecht. Artist Talk at 6:30pm.
Photographer Laurie Lambrecht served a stint assisting the iconic Roy Lichtenstein, and photo-documented his preparation for an exhibition at the Guggenheim (pictured). The result is an "art-within-art" series of photographs that expose the processes and postures of one of the 20th-century greats, in his element.
Laura Russo Gallery
Mel Katz: New Wall Sculptures
Responsible for enough Portland sculptures to be considered a fixture himself, Mel Katz continues his exploration of shape and contour.
Group Exhibition of Gallery Artists: Paintings, Sculpture, Textiles, Works on Paper
Culturephile favorite:
Tom Fawkes and Judith Poxson Fawkes. Between Tom's photorealistic acrylic paintings of Mediterranean gardens and architecture, and Judith's massive, intricate, tapestries, this Portland married couple displays mind-boggling mastery of detail and deft, skilled execution. The work of each of these shrewd, crafty Fawkeses will be on display.
Other contributors include:
Betty Merken and Lucinda Parker—Bold, blocky abstracts
Mary Josephson and Gregory Grennon—Naïve folk intensity, hints of Kahlo
Kim Osgood and Henk Pander—Unique slants on still life.
Anne Siems Sherrie Wolfe—Renaissance riffing.
Erik Stotik and Jay Backstrand—Sensory overload iconoclasm.
3-D Center of Art & Photography
Digital Stereo Paintings by Theo Prins
Fourteen digital paintings produced using a graphics tablet, inspired by the bustling marketplaces of Seoul, Saigon, Hanoi, Bangkok, and Chiang Mai.
The Caretaker 3D, starring Dick Van Dyke
In this 3D film, which debuted earlier this year at the Malibu Film Festival, Van Dyke portrays the legendary 1930's handyman tasked with maintenance and repair of the famous "HOLLYWOOD" sign (which, at the time, read "HOLLYWOODLAND.")
MUSIC
Mississippi Studios
Ioa & Alan Singley
Amanda Spring, erstwhile known as the pink-haired, pitch-perfect singer and intricate math drummer of the indie-rock combo Point Juncture Washington (a band, not a town) has jumped front and center for Ioa, a lush 7-member lineup supporting her unwavering alto croon and utterly unique songcraft. And if you're not careful, Alan Singley, affable bandleader of Pants Machine and longtime all-ages house-show hero, will ride his bike right into your heart.
Ground Kontrol Barcade
DJ Diabetic (aka Shepard Fairey)
If rumors—and posters—are true, then Ground Kontrol's usual lineup of video-game-beep-drowning DJ's will feature an extra-special guest: guerrilla graphic-art god Shepard Fairey. Think you don't know who that is? You do. Trust and obey. Even if he's hunched under a hoody, avoiding everyone's gaze and spinning terrible tunes, you can boast later about being in the same room.