phile under: weekend
Weekend Picks
Culturephile presents two blushing performance-art quinceañeras, a far-out Gypsy excursion, and a lawn-chair space odyssey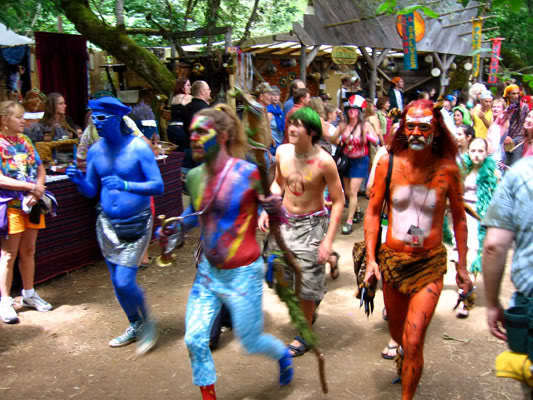 PICA Turns 15
A woman in stylish safety goggles, calmly and methodically breaking glass. Children cutting adults' hair. Beat-boxers, light-boxes, ukelele-wielding trannies—these are some of the many-spirited spectacles that have been brought to us in the last 15 years by PICA (Portland Institute for Contemporary Art) most notably at its annual Time-Based Art Festival (aka, "TBA"). Tonight at Holocene, with the hotly anticipated TBA a mere two months away, double-drum electronica duo Deelay Ceelay help celebrate this arts brainchild's coming-of-age.
Conduit Dance
Look out, PICA—you're not the only arts organization playing quinces princess. Conduit Dance also celebrates the big 15 this weekend, with a showcase of local luminaries including Conduit founder Linda K. Johnson, Oregon Biennial 2010 artist Tahni Holt, and former OBT dancer Gavin Larsen*. Conduit Benefit Performances: 15 hopes to help top off the coffers, so Conduit can continue moving contemporary dance forward.
Oregon Country Fair
Though Oregon Country Fair is held in the country (in Veneta, Oregon, outside Eugene) you can dispel any notions of country fare. Nowhere a 4-H ribbon, nary a cow or plow. It's actually more like visiting a Gypsy enclave, where dusty paths wind through shady woodlands, dotted by makeshift curio shops and traversed by troubadours and elaborately-dressed denizens of various fairytale kingdoms.
Trek In The Park
You've probably heard of Shakespeare In the Park. And you may have caught wind of the odd Star Trek Convention. But have you ever thought of a grand convergence of the two? Never fear; Portland's Atomic Arts is on it. As if beamed in by teleporter, Kirk, Spock and company will materialize in the Woodlawn Park amphitheater and perform the classic Trek episode "Space Seed," best known for introducing Trek supervillian Khan and seeding the soil for future blockbuster The Wrath Of Khan. In this story, the Enterprise discovers a ship containing hibernating human specimens, and wakes their leader, Khan, who then seduces one of the Enterprise's bouffanted crew beauties and attempts to kill Captain Kirk.
Portland Piano International
Pianists, if you can pry your eyes off the sheet music for a moment, heads up! Portland Piano International kicks off its week-long intensive, with performances, films, dinners, and master classes that promise to explore the whole dynamic expanse of ebony and ivory.
*According to one of my ballet sources, Gavin Larsen has some of the most beautiful hand positioning ever witnessed on stage or in studio. "When she makes a gesture, it's like she's balancing God on her fingertips."