phile under: weekend picks
Weekend Picks
Sand, strippers, pastry, and playwrights!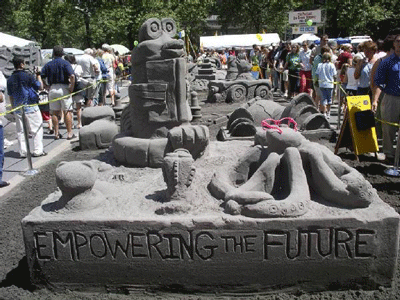 There may be no better symbol of summer than the sand castle. Whimsical, natural, golden, and temporary, the sand castle is a classic metaphor for momentary splendor. Your kids will be inspired when they see Pioneer Courthouse Square transformed into a summer wonderland by 450 tons of sand, expertly shaped into sculptures. Your $3 donation benefits Impact Northwest.
Perhaps you want your stripteases a little more theatrical than Sassy's. Maybe you want your theater sexier than Pericles in the park. Well, this weekend you get lucky, because two theaters offer stripper-themed plays that promise to be provocative in every sense of the word. Coho Theater's Live Girls bills itself as an expose of the psyches and motivations of the modern pole-straddler. For more classic burlesque ooh-la-la, The Lakewood Theater presents Gypsy, a wink-and-smile musical that will peddle you a flash of flesh, and leave you wanting more.
"JAW" used to stand for "Just Add Water," but these days, it just stands on its own as a hotly anticipated preview of new plays in their rawest form. Seasoned playwrights get to jaw about their process. New playwrights get to cut their teeth. And audiences get to chew over new content, before it hits a more formal stage. This weekend features readings by Oregon playwrights Ebbe Roe Smith and Sara Jean Accuardi, which deal with, respectively, male and female latter-life anxieties.
If you set foot downtown on Saturday, odds are you'll stumble over some busker toes. The Big Busk, a coordinated effort to bring 30-odd musical acts to downtown locations, will be staging a curbside cacophony on almost every close-in Southwest block. Although these acts are part of a curated event, the usual protocols prevail. If you like what you hear, stay and pay. If you don't, walk on by, because there's a new musical surprise around every corner.
Portlanders, I know this day is tremendously relevant to us all. While Pix Patisserie lets us enjoy a jubilant clamor of local bands, devour a decadent puff-pastry tower, and stumble through wine-addled lawn-sports— surely we all go to show solidarity for a free France. In exchange for as much free France as a Portlander could possibly handle, Pix asks that you bring two canned food items to donate to the Oregon Food Bank. (Seems only fair while you're stuffing pastry in your face, to share the wealth.)