phile under: flash mob
Hootin' Annies!
Heads up, SantaCon. A red-and-white summer spectacle is hot on your heels.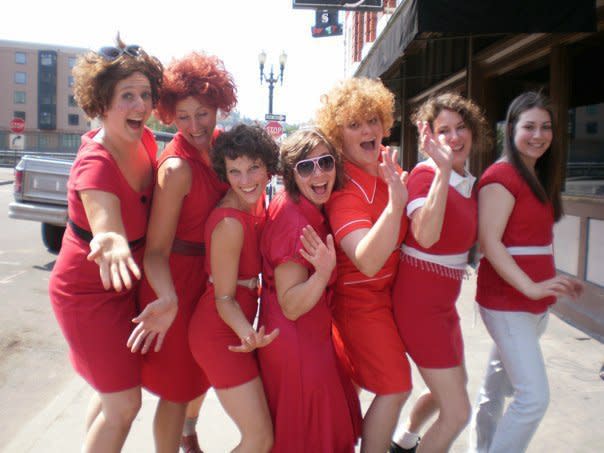 This was a packed weekend. A hundred-odd Portlanders played music at PDX Pop Now. Ten thousand or so folks played fairies at Fairieworlds. But a few scamps looking for levity, played Annie, in a conspicuous downtown pub crawl yesterday afternoon.
The first annual AnnieCon, riffing off the international winter flash-mob phenom SantaCon, challenged its participants to caricature the lovable orphan, then hit the bars for Hannigan-style shenanigans. With a modest but respectable turnout yesterday, the event hopes to grow. Says founder Goldie Davich (pictured, third from right), "I've always loved Annie so much. As a curly-haired kid, I wanted to be Annie, and I've never stopped wanting it. This is the culmination of a lifelong dream." Jeez. Cue the string section.
Silly as it may seem, post-Annie ennui is its own psychological meme. Below, consider the trailer from the documentary Life After Tomorrow, featuring actresses who struggled to gracefully outgrow the winsome role: