phile under: weekend picks
Weekend Picks!
Farm-fresh roots rock, arborial acrobatics, Buddhist revels, and Broadway classics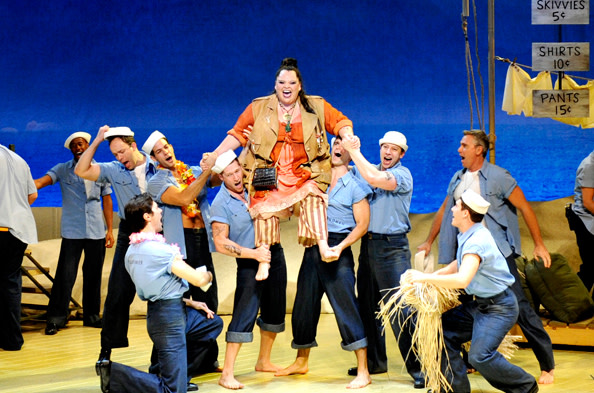 First Friday
First Thursday. Last Thursday. It seems every gallery district wants to lay claim to one notable monthly day. In biblical parlance, "The first shall be last, and the last shall be first,"—and if too many more neighborhoods do this, Culturephile will cease to know first from last, or head from a**. That said, Central Eastside calls official dibs on First Friday, and invites you to revel in the burgeoning eclectica of its galleries. And it's actually looking pretty good. Some highlights: Newspace Center for Photography will feature New Work by much-lauded anthropology-minded photographer Linda Connor. Poboy Art will showcase the prolific and intricate rock-poster designs of EMEK, and newly-gilded gallery Golden Rule's grand opening, will hypnotize with the brightly-colored folk illustrations of Inner Lands by Howard Gillam, which manage to simultaneously evoke Medieval manuscript illuminations, and South-American animal totems.
South Pacific
Culturephile caught this production with an intent to review it. But since Culturephile's date was too swept-up in beach fantasies to endure any hints at critique, and the production itself will pull out with the tide by the time this weekend subsides (it ends Sunday)—South Pacific lands in Weekend Picks. Suffice to say the production is near-perfect. It breezes into town from Broadway, complete with all amenities: A-level singing, acting, and dancing; photorealistic sets; and a rigorous commitment to the classic material. As an added bonus, this show turns up its tropical heat with High School Musical 2 alum Anderson Davis as Lieutenant Cable, who is every bit as "damn sexy" as the character Bloody Mary's lines purport him to be.
That said, be forewarned: While it's easy to be beguiled into island delirium, and while the singing and dancing completely "sell it," it's hard to overlook the offhanded xenophobia that comes with the script. Yes, we're transported to a beautiful beach; on the other hand, we're deployed into World War II, and hence have to overhear a lot of smack-talk about "the Japs" and watch the story's romantic heroes battle their own inner prejudices. Picture a carefully-sealed crate on the beach. Upon prying it open, you find museum-quality parcels of vintage dry goods—but tucked among them, perfectly preserved rations of racial tension. What retains the play's relevance and moves you past the cringes, are the gorgeous and unforgettable songs, from the intoxicating "Bali Ha'i," to the swooningly romantic "Some Enchanted Evening," to the winkingly sapphic "Honey Bun." Classics all, and deftly delivered.
Obonfest
Obon is a 500-year-old Japanese custom of honoring the departed through three days of family gathering and traditionally includes a communal dance of joy known as Bon-Odori. Celebrate Obon in Portland at the Oregon Buddhist Temple where traditional Japanese food will be served, Martial Arts and Tanuki Taiko (a relatively recent art-form of ensemble drumming) will be demonstrated, and activities for all ages abound.*
Art In The Dark
The spinning, swooping sylphs of AWOL Dance Collective attempt once again to suspend your disbelief, as they perform aerial feats in twilit trees at the World Trade Center Atrium.
Pickathon
Head for Happy Valley (an actual place) for three days of exuberant indie roots rock at nearby, far-out, Pendarvis Farm. Earlier this week, Culturephile heard more about the fest and the farm straight from the horse's mouth, in an interview with founder Zale Schoenborn. Also note: this year marks the Pickathon debut of hometown heroes Sallie Ford & The Sound Outside, and Typhoon.
Weekend Picks are published every Friday at noon, and highlight just a few of your local entertainment options. For a more comprehensive list of events, visit the Arts & Entertainment Calendar.


*Obonfest reviewed by guest contributor Logan Buckley.