phile under: queer friendly
New all-ages brunchtime drag revue!
Coffee, Eggs, Wigs and Legs!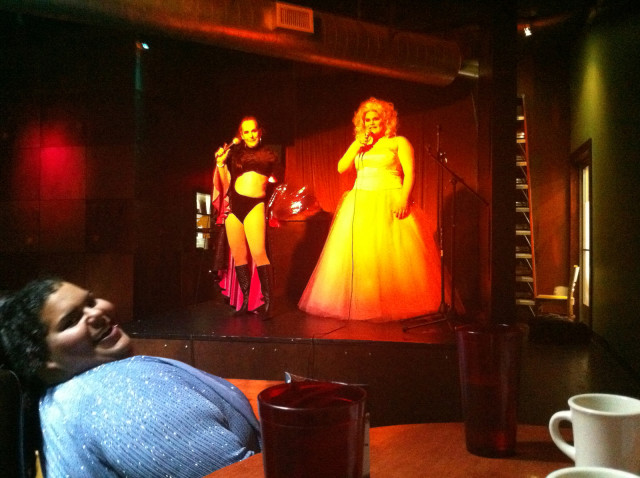 You go into Sunday brunch with certain expectations. Coffee. Omelettes. Perhaps some toast. What you least expect is a fully frocked and coiffed cadre of drag queens, prepping to put on a show. Nevertheless, yesterday morning Crush, on SE 14th and Belmont, delivered all of the above. "Bear with us," exhorted Jaiden Palace (pictured, right) as the troupe tested sound and lights. "We're experiencing some testicular difficulties."
The valiant a.m. antics, emceed by Ms. Phoenix Monte (pictured, left), marked the premiere in a series of morning drag performances by Chaos In A Container, a new group of femme-feigners. Juicy Monique Palace (pictured, foreground) confessed beginners' jitters, but delivered a soulful performance of "I Am Changing." And, egged on by her teenage daughter Coco*, Ms. Monte swished through several high-kicking numbers, and saucy shout-outs to the groggy morning crowd.
Set to become a Sunday staple, the event kicks up just where the more risqué Saturday night soirees at Embers and Darcelle's leave off. And with coffee, cornbread, and all the other brunch amenities on-hand, it promises to awaken queer-arts appreciation in a whole new way.

*Crush admits all-ages patrons 'til 3pm.
For a more comprehensive list of events, visit the Arts & Entertainment Calendar.