phile under: jazz notes
Esperanza Spalding Releases New Album
Chamber Music Society delivers breezy, nuanced summer jazz.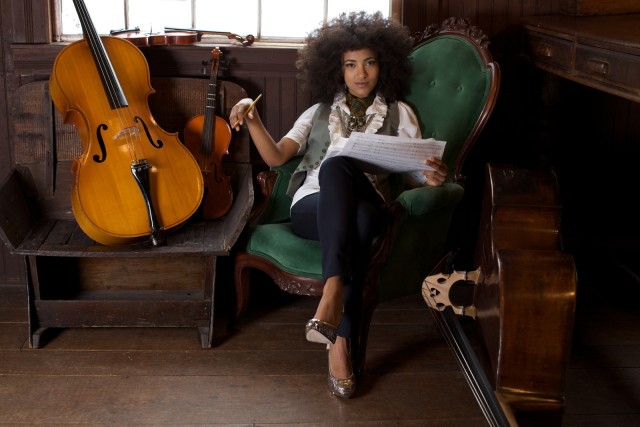 Esperanza Spalding's new album, Chamber Music Society, is what I think they mean whenever they say, "tempest in a teapot." It's dynamic and unpredictable, yet so delicately contained and elegantly presented, that it seems perfectly safe to imbibe. Between Spalding's facile acoustic bass grooves and wafting, soaring scat-vox, there's a rumble of complexity full of hurricane thunders, rainstick rattles, swoons of strings, sudden bumps and small upsets, imbued throughout with a sensual summer warmth and lightheartedness. The wind has caught hold of the tablecloth. Oh my.
Culturephile first laid eyes on Ms. Spalding eight or so years ago at Portland's old Meow Meow club, as the pivotal member of indie band Noise For Pretend. (That night, in addition to delivering a standout performance, she was tasked with outshining the keyboardist's distractingly unseasonal stocking cap.) Quickly thereafter, Spalding ditched the local indiepop scene to make noise for real, obtaining a degree from Berklee College of Music and releasing self-titled debut album Esperanza, that captivated, among others, Mr. David Letterman—who in the clip below dubs her "the coolest person we've ever had on our show."
Portland Jazz Festival recently chimed in its own endorsement, naming Spalding its Artistic & Community Ambassador. On August 17, when Chamber Music Society hits stores, you too can see what all the hubbub is about.

For a more comprehensive list of upcoming events, visit the Arts & Entertainment Calendar!