phile under: space exploration
Mary Roach Visits Portland!
The author of Packing for Mars: The Curious Science of Life in the Void, fittingly appears the same evening as the Perseid Meteor Shower.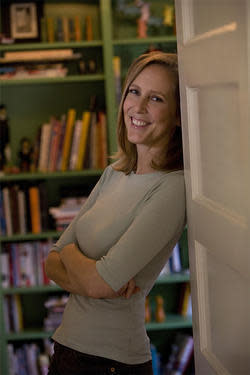 Astronauts, it seems, are misunderstood. While lionized and romanticized for their heroic turns of space-flight, the men and women who do the job are actually beset on all sides by petty annoyance and mind-numbing minutiae. Before and between the fleeting moments of floating and waving, astronauts are basically lab animals, poked and prodded, goaded and guiled by scientists. "What can we feed them?" "How might we strap them down?" "How many weeks can they endure the same underclothes?" are just a few of the myriad questions that can only be answered through a battery of NASA trials—and comically cringe-worthy errors.
Insatiably curious and hilarious nonfiction writer Mary Roach, already known for such titles as Spook: Science Tackles the Afterlife and Bonk: The Curious Coupling of Science and Sex, pokes her nose into the most mundane aspects of space-travel prep in her latest offering, Packing For Mars: The Curious Science of Life in the Void. Fresh from shilling on The Daily Show, she hits Bagdad Theater (37th & SE Hawthorne) tonight at 7pm. This, incidentally, is mere hours before optimal Perseid Meteor Shower viewing, which should kick off at twilight. After catching Ms. Roach, you might rush over to one of OMSI's Star Parties (at Rooster Rock or Stub Stewart State Parks, 9pm)—or just wander out of the Bagdad and up nearby Mount Tabor for a great sky-view, and most likely an informal neighborhood soirree. Either way, tonight offers plenty of opportunity for space exploration.

For a more comprehensive list of upcoming events, visit the Arts & Entertainment Calendar!