WEEKEND PICK!
Portland Folk Festival
Tragos Amargos and world-music friends at Alberta Rose Theater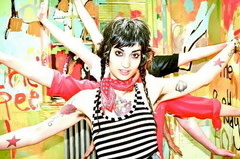 Portland Folk Festival
What is "folk?" In recent memory, the title has referred to faded-and-worn down-home country/blues/Americana. But as any anthropologist will tell you, every language and culture creates its own "folk." For a while, we tended to call that other stuff "world," until that all-encompassing term started to host the low hum of synth-strains from a totally non-native species: new age. At that point, the expansion of the giant internet hive-mind, began to make all cultures more accessible to all peoples, forcing us to acknowledge that Americana no longer spoke for most Americans, and that anywhere there was a human voice and a heart and a story, there was "folk."
Ahem.
Tonight, stunning songstress Luz Elena Mendoza (better known for fronting band Y La Bamba) brings her latest project, Tragos Amargos, to the Alberta Rose Theater. The evening's Latin flair will be further enhanced by Celso Machado, and then offset by Natya Leela's Indian dance, and Vagabond Opera's bawdy Slavic stylings. Folk, meet world.

For a more comprehensive list of upcoming events, visit the Arts & Entertainment Calendar!