phile under: books
Portland Zine Symposium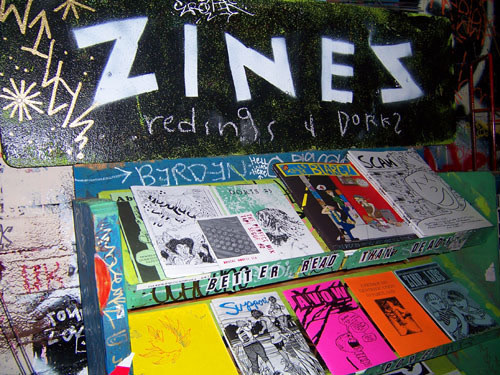 What happens when just anyone can publish their own book or magazine? As you might imagine, many elements slip into the mix at Portland Zine Symposium.
Rebels
Content that would normally get nixed by a publisher, becomes fair game for the printed page: incendiary rants, unauthorized cut-and-pastes of copyrighted content, and a barrage of unedited, indulgent diary confessionals. Some of this stuff is cathartically irreverent, or awkwardly humorous. Some of it is intriguingly "outsider." And some of it is illegible, or otherwise un-readable, point blank. (Caveat emptor: if you can't read the cover, may as well put it down.)
Artisans
On the other hand, with little economic incentive, and no third-party directives, many zine-makers feel free to create something more wonderful than the market demands. Handmade touches emerge, like letterpress impressions, screen-print, hand-coloring, and crafty binding. Illustrations abound. Some authors who don't try to "market," prove nevertheless quite compelling to read. One gets the sense that the content is purer, unchecked by an editor's agenda-pen.
Professionals
Some small publishers, like recent Culturephile featuree Brandon Seifert, writer of Witch Doctor, self-publish with one eye on the prize of a mainstream deal. They bring slick, shelf-ready books to the zine scene, providing readers a sneak preview of work that will eventually "go big."
So what does the zine world offer? Variety. Freedom. Risk. Rarity. Enough stuff, that there's probably something for you. Head over to PSU, browse the tables and meet the makers.

For a more comprehensive list of upcoming events, visit the Arts & Entertainment Calendar!