phile under: theater
BAR THEATER DOUBLE FEATURE: Beach Battle & Vamp Romp
Someday Lounge raises the bar for campy summer pub plays.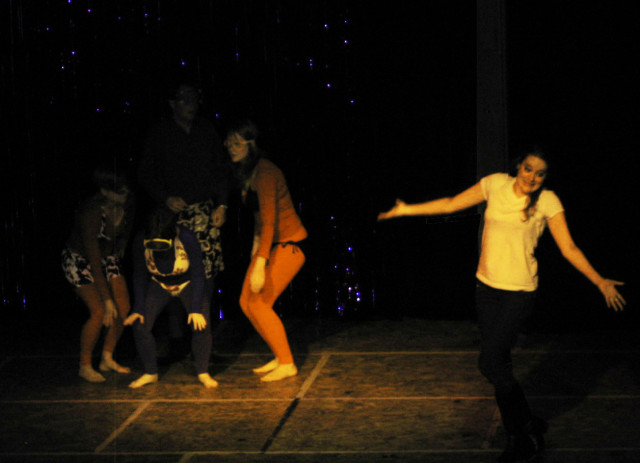 Last night, Culturephile hopped into Someday Lounge for its $12 theater two-fer: Beach Blanket Beyond, and Alba The Vampire. Pleasantly shocked by the level of entertainment these two pieces provide, we suggest catching them next weekend before they close.
Beach Blanket Beyond is so beyond 60's surfer campy, you expect someone to actually jump a shark. Ripped from the pages of Jason Squamata's comic book; the "hunky" lead wears a soft-sculpture muscle-suit, the beachy beauties shimmy around in bright sarongs and drape themselves submissively on the males, and the players repeatedly "freeze-frame," chime in some cheesy narration, and then resume their movements to illustrate the action. Undoubtedly an homage to the writer's nerdiness, the cameo character is a teenaged H. P. Lovecraft, hefting a musty book of magic spells and hamming discomfort in his trunks. It's all very self-aware and stylized and silly—and if it weren't well executed, it would fall totally flat. Luckily, all cues, props, pauses, freezes, and fake muscles are tucked impeccably into place, for a piece that achieves every laugh it intends, and uses its minimal, low-budget setup for more than it's worth.
Alba The Vampire, an original play by Jason Ferte, makes light of a modern Single White Vamp with a major cross to bear: the inability to interface her love life with her…erm…dietary needs. The leading lady is tasked with a stream of monologues, and she kills! She delivers a perfectly toned mix of bravado, comic timing, and nervous, urgent physicality that Culturephile hasn't seen since Artist Rep's Gracie & The Atom. Resultantly, this caustic comic vampire is highly humanized. You can't help but care about her fate, and hope she'll be able to stave her many appetites. Minor characters also hold their own, with spot-on comedy stylings, while a smattering of original music makes the play feel musical, but not quite like a musical, per se. That's actually okay—while the singing is undistractingly competent, it's the believable speaking and dynamic blocking that really sell this show.
Of the bar-hosted theater productions we've seen this summer, this double-header should take home a two-headed blue ribbon, for taking its silly material seriously, playing equally well to friends and strangers, donating a portion of proceeds to Outside In, and never missing a beat.

For a more comprehensive list of upcoming events, visit the Arts & Entertainment Calendar!